Michael Starling thought he would struggle to get more fathers involved at Adelfa Callejo Elementary School. After just one meeting, he was surprised to learn how wrong he was.
In September, Starling, a Callejo and the Callejo Elementary team launched a chapter of Watch D.O.G.S., an effort started by the National Center for Fathering best described as "a one-of-a-kind, school-based father involvement program that works to support education and safety." The goal was to attract more fathers and male role models to mentor students and provide a visible presence in the lives of students while on campus.
Starling expected to attract 40 dads for that inaugural meeting. Instead, more than 200 dads, granddads, big brothers and uncles showed up.
"It turns out all they needed was an invitation," Starling said.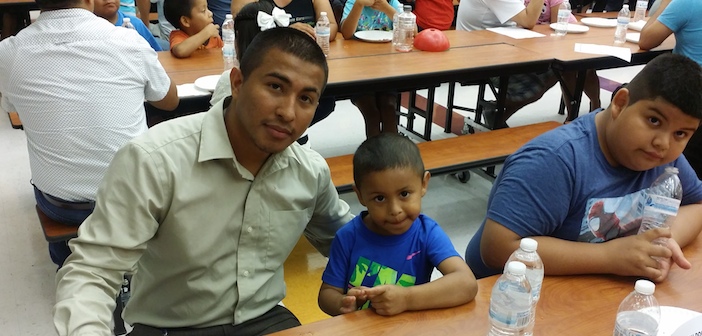 Watch D.O.G.S., or Dads of Great Students, recruits father figures to volunteer at least one day annually at the campus and participate in a variety of activities. Starling says this face time is key, as most school outreach and events are typically geared toward mothers.
"It's a male presence that some kids are missing," he said.
Research shows the involvement of fathers early and often is a key contributor to student success. According to a 2011 study by the U.S. Department of Health and Human Services, early involvement by fathers in the primary care of their child is a source of emotional security. A second study compiled cited on the national Parents As Teachers organization website illustrates that a fathers' involvement in their children's lives before age 7 may protect against psychological maladjustment later on.
More than 4,700 schools nationwide participate in the program, including 1,263 schools in Texas. According to Starling, a pleasant side effect of the massive response, including the purchase of t-shirts, was that the school was forced to accelerate it planning for a second meeting after Thanksgiving.
"We were overwhelmed by the response," Starling said. "The kids are more excited than we are."