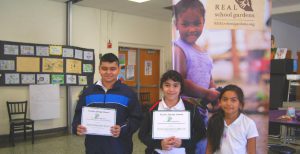 It took a few years to accomplish, but the installation of a Real School Garden at San Jacinto Elementary School will soon be a dream come true for Librarian Laurie Koppang, her colleagues and students.
Koppang and fifth-grade science teacher Ricardo Ponte led a previous effort to apply for a learning garden for the southeast Dallas campus. That first application didn't quite make the grade. "We were number nine in the ranking, and the cutoff was eight," said Koppang,
Disappointed, but determined, she and Ponte waited a couple of years, worked on their application and re-submitted last year, and were approved by Real School Gardens, the nonprofit organization that has partnered with several Dallas ISD schools to create learning gardens. In keeping with the group's philosophy, every garden is designed to meet the school's unique needs. To give parents, students and staff a say in the garden's features, the partners held a schoolwide brainstorming session.
The Big Dig to install the garden is set for Tuesday, Oct. 13. Parents and community volunteers are expected to report for duty at 8 a.m., and a nearby Home Depot is kicking in volunteers and tools. By the time the final bell rings, the school will boast a completed learning garden with areas for sun and shade plants, a water feature, benches, a mural and fruit tree orchard. Corporate backers of the project include the travel technology firm Sabre, SWA landscape architects and VHA healthcare network.
Koppang sees the new garden as an important tool to engage students in the study of science. She says her mostly urban students are excited about getting their hands in the dirt and discovering worms, grubs and butterflies.
"I didn't realize just how many of our kids had never gotten the chance to dig in the dirt and grow things," Koppang said.
When she created a small butterfly garden, she learned that kids loved the experience of planting and growing. With the new, larger garden, there will be opportunities for all of the school's students to join in the fun.
With the financial backing of corporate supporters, REAL School Gardens partners with schools where educators see the value of taking learning outside the walls of the classroom. Under the leadership of a landscape architect, each garden is designed to meet the school's unique needs.
Once a design is selected, the garden is created in a one-day build called a Big Dig where corporate volunteers, school staff, parents and students join forces to bring the design to life. Real School Gardens supports the program with ongoing teacher training to ensure students get the most out of their outdoor classroom.