A spider has appeared in Mrs. Arellano's second-grade classroom at Arthur Kramer Elementary School, and her students are freaking out.
After the spider is dealt with, the panic quickly turns into questions or, as they are called in the International Baccalaureate-candidate school, "wonders," about the spider. "Where does the spider live?" "What does the spider eat?" "How long does a spider live?"
Because Arthur Kramer Elementary is involved in the IB program, which helps put students in charge of their own learning, Mrs. Arellano encourages the students' "wonders" about the arachnid. (For the record: Spiders live almost every habitat on earth; their usual food is insects and other spiders; the typical house spider lives about two years).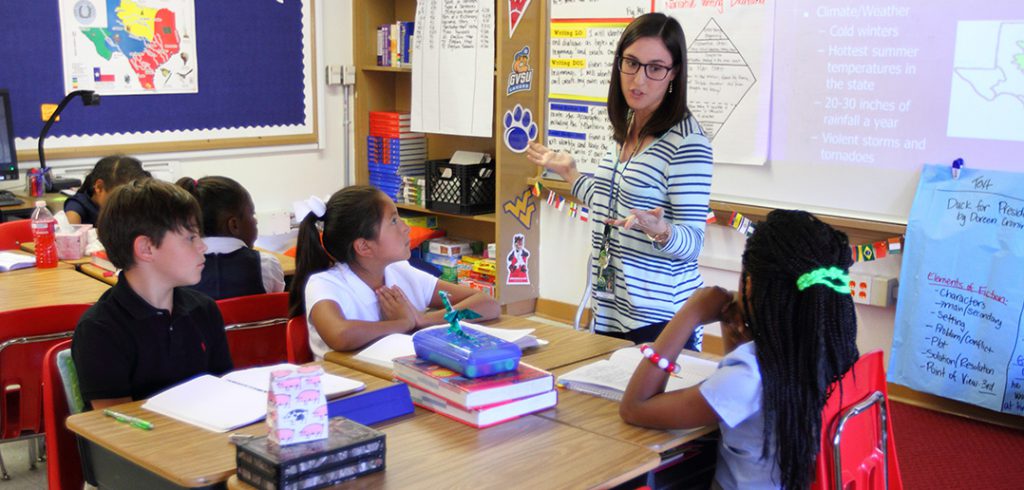 Kim West, the IB coordinator at Arthur Kramer Elementary, said the school encourages student curiosity and focuses on how students learn most effectively. With Kramer in its second year, referred to as its candidacy year, of participating in the IB program, West said students and teachers are increasingly buying into the program.
"The kids are buzzing about (the IB program) because they are being heard in a way they haven't before," she said. "You can really feel the excitement in the school this year."
Founded in 1968, the IB program aims to develop a student's intellectual, personal, emotional and social skills to prepare them for life after school. A school must complete a rigorous process that typically takes three years to become an authorized IB school.
Dallas ISD has three authorized IB schools—a fully authorized diploma programme at Woodrow Wilson High School and two school-wide Middle Year Programmes at J.L Long Middle School and Harry Stone Montessori—and five IB candidate schools, including Kramer Elementary. Mohammed Choudhury, director of Transformation and Innovation, said IB schools are a part of the district's effort to launch 35 new choice schools by 2020.
"It's great to have IB schools as part of the growing range of options we can offer families," he said. "We know from decades of research that the IB model provides a rigorous and rich curriculum that prepares our students for the demands of the 21st century."
Kramer Principal Katherine Wanserski said while the school has always had a tradition of excellence, she believes the IB component, in addition to the school's dual-language program, can push the school to higher level.
"We are focused on giving students the education that is right for them," she said. "We also want to draw families back to the district by offering a rigorous, relevant education that will prepare students for success well beyond school."