Athlete and L.G. Pink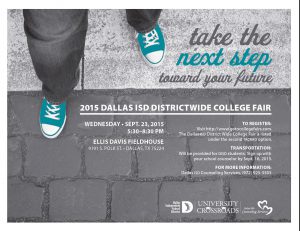 ston High School senior Marquez Johnson is optimistic he'll be admitted to his top college choice, Texas A&M College Station. He knows it offers his preferred major, electrical engineering, and he has even visited the campus. Number three in his class, Johnson, a member of the National Honor Society, captain of the Vikings football team, and a member of student council, says his campus visit gave him a feeling that the school would be a good fit.
"Just going to the campus and getting a feel of the environment gave me a home feeling," he said. "It's not too close to home, not too far away. I got a chance to meet a few teachers and sit in a few classes. I just felt like I belong there."
He's keeping his options open, though, and looks forward to talking to representatives from his second, third and fourth choices—UCLA, Texas Tech, and Kansas State—at tomorrow's Districtwide College Fair.
Marquez and hundreds of other juniors and seniors and their parents are invited to attend the fair to collect information about financial aid, campus life, available majors and extracurricular activities. Under the tutelage of the district's counselors, the students are being encouraged to do some homework in advance and to show up with questions in hand. That way, they'll be assured of collecting meaningful information in their exchanges with the more than 300 representatives of colleges, universities, the military and trade schools that will host information booths at the event.
Pinkston Counselo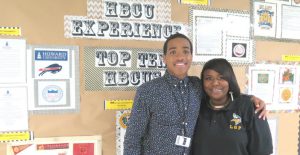 r Cynthia Waters, who was formerly Johnson's teacher at an area charter school, has taken a special interest in the student and is encouraging him and other seniors to explore all their college options, including HBCUs. Waters, a graduate of Spelman College, is excited about the more than 31 historically black colleges and universities participating in the HBCU Experience. It's a new feature of the college fair showcasing the schools' educational offerings and cultural experiences.
While counselors urge students to focus on more weighty matters such as a college's required GPA and admission requirements, financial aid, and majors, Marquez said he and his peers are equally concerned about how they'll fit in and be welcomed at their chosen campus.
"A lot of us want to know how will we be welcomed into the college and how they'll help us overcome homesickness," he said.
Johnson has somewhat of a leg up on other first-generation college students. He said his older brother is a junior at Alabama A&M and has given lots of good advice.
"He told me to be flexible, manage your time wisely, don't try to blend in too much and don't try to stand out too much," he said. "Just be myself and embrace the concept of college."