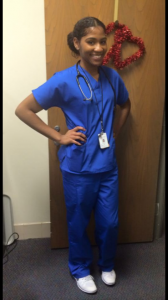 Seventeen-year-old Alison Geason is a determined young woman who knows where she's going and isn't wasting time getting there.
Geason, a senior at the School of Health Professions at Yvonne A. Ewell Townview Center, says she's known since pre-school that she wanted to become a doctor. After serving a traditional internship with a local physician, she decided she was ready for the next level – a more intensive, hands-on medical internship. So she did what any resourceful, technology-savvy young person might do to find that opportunity: she did an Internet search and found a medical internship program halfway around the world in India.
After convincing her mom, Skyline High School Assistant Principal Cynthia Thomas, that she was totally serious, Geason and her family got busy raising the funds to cover her trip to Ahmedabad Gujarat, India. Offered by the nonprofit, Youth Futures International, the internship provided Geason hands-on experiences such as dissecting a human cadaver, witnessing a live birth and observing surgeries in the operating room.
For 17 days, Geason and 55 other mostly American students worked side-by-side with physicians as they treated patients and performed procedures in the emergency room, outpatient clinics, and operating rooms. Geason loved the experience, describing it as everything she had dreamed about.
"It was great and so much fun," she said. "It confirmed for me that medicine is definitely the career I want to pursue. It made me appreciate so much my opportunities here in the U.S."
Dr. Bobbie Lowe, a Health Magnet teacher who helps students like Geason find internships, said she was only mildly surprised that Geason elected to go to India.
"I wasn't really all that surprised," Lowe said. "She's a go-getter. She's kind of shy, but when she gets started, she really goes to work."
As an example, Lowe said last spring Geason completed an eight-week internship with a local physician at Methodist Hospital as part of the school's Administrative Medical Assistant Certification program. The program prepares students to pass a national exam to become certified medical assistants who can perform blood pressure, EKGs and blood tests, and create patient medical records, verify insurance and perform other front office tasks.
Lowe said many of her Health Magnet students not only complete the certification, but continue their studies and become physical therapists, physician assistants, registered nurses and physicians.
Given Geason's track record, there's little doubt the senior has what it takes to become another of the school's success stories.
Geason offers this advice to other students who want to strike out in search of their dreams:
"Find out what you want to do in life and go after it. Volunteer. Network. Talk to people. Pursue your dreams. You're only young once."
"A career shouldn't be something you should dread. You should go to work happy. You will if you find out what you want to do and pursue it."
"Surround yourself with people who encourage you to go for your dreams. All of my friends are interested in the same goals and aspirations as me."