Dallas real estate icon Ebby Halliday, who is also the namesake of a Dallas ISD school, has died at the age of 104.
Halliday, who founded Texas' largest independently-owned residential real estate company, earned a national reputation for helping countless people realize their dream of owning a home.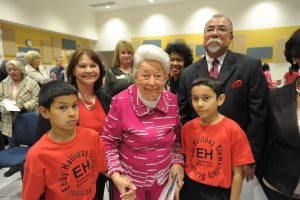 Ramon Delgado, principal of the Ebby Halliday Elementary School in southeast Dallas, said the staff was sad to learn of Halliday's passing and observed a moment of silence in her honor. Though he had not met her during his two years as principal, Delgado said he was honored to work at a school graced with her name.
Born March 9, 1911, Halliday began her career during the Great Depression, selling women's hats. In 1945, a housing developer was impressed with her skill and challenged her to find buyers for 52 hard-to-sell concrete houses built on the old Walnut Hill Golf Course in North Dallas. Halliday accepted the challenge and successfully sold all the houses, laying the foundation for an empire that grew to 30 offices and approximately 1,600 real estate agents, making it the 10th largest real estate firm in the country.
One of the first and most successful female entrepreneurs in Dallas, Halliday earned numerous commendations both for her business acumen and acts of philanthropy. In recognition of her contributions to the city she loved, the Dallas ISD Board of Trustees named the Ebby Halliday Elementary School in her honor in 2008.
"Ebby Halliday's legacy as a prominent entrepreneur and influential business woman will live on through the students and staff at Ebby Halliday Elementary School," Trustee Nancy Bingham said. "One of my fondest memories includes the school's groundbreaking and dedication ceremonies that Ms. Halliday attended. I'm so proud she saw the school come to fruition. She was a perfect role model for children, especially young women."