Dallas ISD now has an alum in the NFL Hall of Fame.
Tim Brown, the retired NFL great and Heisman Trophy winner who graduated from Woodrow Wilson High School, was inducted into the Hall of Fame on Saturday in Ohio.
During his speech, Brown looked back at his career that has its origins on the playground of Mount Auburn Elementary School.
"It's been a lot of work, but it's been incredible work," Brown said of his football career. "I can't wait to enjoy this (Hall of Fame honor) for the rest of my life."
In his Hall of Fame induction speech, Brown recounted playing three years of varsity football for the Woodrow Wilson Wildcats. During those three years, the Wildcats only won four games.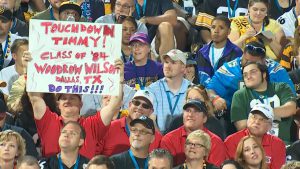 Despite the losing record, Brown said those years were fundamental to developing his skills and learning about football. He gave a special shoutout to his former Woodrow Wilson teammates and thanked the team's coaches for helping make him the NFL Hall of Fame player he became.
Brown has remained involved with Dallas ISD, sponsoring an annual fundraising golf tournament for his alma mater, participating in the annual superintendent's scholarship fundraiser, and visiting schools to discuss the importance of academic achievement.
Throughout his career with the Los Angeles/Oakland Raiders and Tampa Bay Buccaneers, Brown racked up the following stats:
1,094 receptions
14,934 receiving yards
100 reception touchdowns
Dallas ISD chose Brown to appear on the cover of the district's annual football program. The program also includes a spread devoted to his storied career.