The contributions of district employees will help make dreams of college a reality for 10 recent Dallas ISD graduates. The students will receive $1,000 scholarships funded by the annual employee UNCF giving campaign.
Outgoing Superintendent Miles Miles and Trustees Lew Blackburn and Bernadette Nutall recently joined UNCF representatives at a ceremony held to honor the recipients. The students plan to attend public and private institutions as diverse as historically-black Prairie View A&M, Langston and Howard universities, and state schools Texas Woman's and Texas A&M universities. The students' intended majors are just as diverse, with some planning to pursue studies in business and political science and others looking to major in education and engineering.
Recent UNCF television ads show students telling donors "I am your dividend." Dallas ISD employees can be proud of their investment in the futures of 10 graduates who are heading off to college with scholarships reflecting the staff's generosity.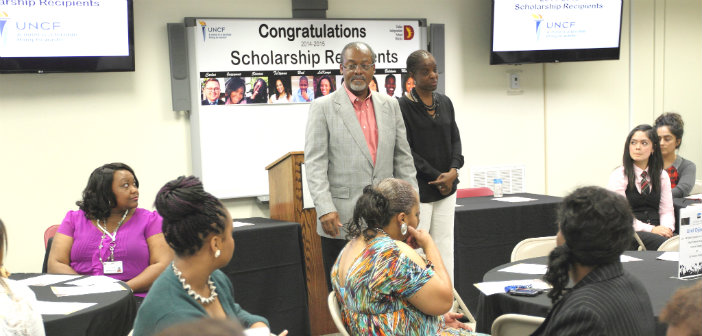 2015 UNCF Scholarship Recipients
Urel Djiogan
Dr. Wright Lassiter Jr. Early College HS
College: Texas A&M
Intended Major: Engineering
LaKenya Franklin-Robinson
School of Business and Management at Yvonne A. Ewell Townview Center
College: Howard University
Intended Major: Psychology
Baldwin Hamilton
Emmett J. Conrad HS
College: Langston University
Intended Major: Marketing and Finance
Ta'tyana Jones
David W. Carter HS
College: Prairie View A&M
Intended Major: Political Science
MaRhonda Long
Irma Rangel Young Women's Leadership School
College: Texas Woman's University
Intended Major: Education
Simone McDonald
Lincoln HS
College: Texas Southern University
Intended Major: English
Carlos Montelongo
Sunset HS
College: UT-Arlington
Intended Major: Business
Georgette Rojas
Trinidad Garza Early College HS
College: Texas Woman's University
Intended Major: Biology
DeAunte Vickers
L.G. Pinkston HS
College: St. Edwards University
Intended Major: Pre-Med/Biology
Jazzmyne Warren
Emmett J. Conrad HS
College: Texas A&M University
Intended Major: Biomedical Engineering