Dallas ISD high school students showed marked improvement on the 2014-15 English I end-of-course (EOC) exam. The percentage of students passing the English I exam on their first attempt gained 3 percentage points up to 59 percent, up from 56 percentage points in 2013-14. The increase was even more pronounced for the District's African American students, who narrowed the achievement gap in English by improving 8% points (from 48% to 56%).
"The English I results are encouraging because this is just one more data point showing the growth of our students," said Deputy Superintendent Ann Smisko. "The challenge is to maintain growth year after year, and we are putting important pieces in place to do just that."
According to the Texas Education Agency, students are required to pass five STAAR end-of-course exams – Algebra I, English I, English II, Biology, and U.S. History – in order to receive a high school diploma.
On the other exams, combined district scores were unchanged from the previous school year. However, Dallas ISD students who live in poverty (90% of the students who receive free or reduced lunch) improved in four of the five exams and remained stable in the other.
COMBINED FIRST-TIME TEST-TAKERS, FALL AND SPRING ADMINISTRATION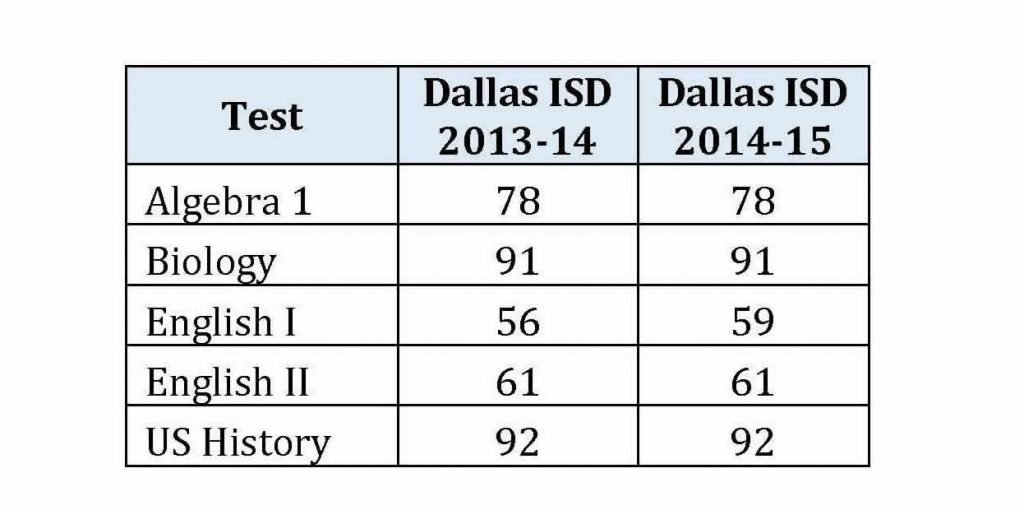 COMBINED FIRST-TIME TEST-TAKERS BY SUBGROUP, FALL AND SPRING ADMINISTRATION