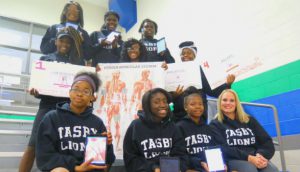 Jumping jacks, running and pushups—the old standbys of physical education—are getting an assist from fitness software and devices such as iPads, pedometers, fitness trackers, and interactive heart rate monitors in district PE classes.
Working out still requires determination and perspiration, but for a generation raised on technology, it seems these devices are making the pursuit of fitness a lot more fun.
The Health and Physical Education Department supplied schools with a variety of tech devices this year to enliven PE classes. Schools that incorporated the technology demonstrated the workout aids at the department's year-end showcase, Tech Fest. For example, students from C.A. Tatum Elementary demonstrated how their micro-chipped basketballs and tracking software are giving them more game on the court, while the Rocket Zumba Stars from Thelma Richardson Elementary got the whole gym gyrating with their Wii fitness routine.
PE teacher Melinda Foglesong and a team of her seventh- and eighth-grade girls from Sam Tasby Middle School showed how they are using iPads and QR codes to energize their workouts. Foglesong created QR codes the students scan with their iPads to learn how to target muscles with free weights. Then they record themselves performing the workout and give each other feedback on their form.
"The students instantly engaged with the iPads," she said, adding that the devices have helped encourage even sedentary students to get moving.
Student-created newsletters, apps, and animations promoting exercise, nutrition, and disease prevention were also on display. Students from Barack Obama Male Leadership Academy swept the digital media competition, entering more than 25 projects.
Health and PE Director Barbara Johnson said technology is helping teachers interest more students in adopting healthy lifestyles.
"Now, more than ever, it is imperative for teachers to design engaging instructional experiences that speak the language of today's students," Johnson said. "Our department is striving to place more emphasis on technology resources and effective instruction that caters to all students, not just those who are naturally athletic or physically active. We hope to harness the productivity and appeal of technology to give every child a comprehensive education that instills in them a lifelong love for being physically healthy."