Results from a recent districtwide survey show a notable increase in the percentage of campus-based employees who believe Dallas ISD is headed in the right direction.
On the Spring 2015 Campus Climate Survey, the percentage of school staff believing that the district is moving in the right direction is now at more than a 2-1 margin. The response marks a 6.5 percentage point increase from the response to the same question in Fall 2013.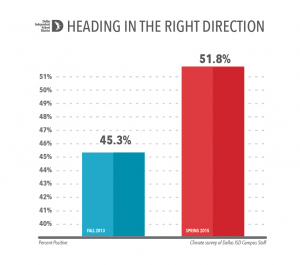 Meanwhile, the Spring 2015 survey showed that 56.3 percent of staff said morale at their school has improved their year, an 6.3 percentage point increase from the response to the same question in Fall 2013.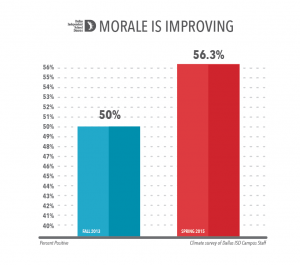 "The latest results are consistent with the overall improvement we've seen in climate during each of the three years the survey has been administered," said Dr. Cecilia Oakeley, Dallas ISD Assistant Superintendent, Evaluation and Assessment. "It's encouraging to see these results."
The results are compiled from the 12,976 campus-based employees who took the school staff survey this spring. The survey aims to gather feedback from teachers, school administrators, other professionals, and support staff on how they view the climate in the schools and district. The results are also a contributing factor in campus principals' performance evaluations.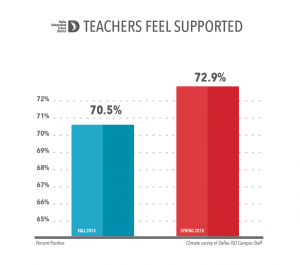 Other notable results from the Spring 2015 climate survey include:
88.3 percent of principals are satisfied with the support they receive from the division, compared to 81.6 percent in Fall 2013;
72 percent of staff said that, overall, their campus is headed in the right direction, compared to 70.2 percent in Fall 2013;
72.9 percent of staff said they have the support from campus leadership to do their job well, compared to 70.5 percent in Fall 2013.
The district has administered the climate survey in the fall and spring semesters for the past three years. As was the case in the two previous school years, several categories noted a slight decrease in positive responses from the fall to spring.
While district leaders said that Dallas ISD would continue its work to improve the climate of the schools and district, they were encouraged that more employees feel the district and their campus are improving.
"Dallas ISD has many of the best teachers in the country, and their feedback is a valuable resource to help determine the successes and challenges on the campus and in the district," Deputy Superintendent Dr. Ann Smisko said.