A significant increase in wireless and broadband capacity at Dallas ISD has connected students and teachers with new ways to learn.
Internet usage by students and staff at Dallas ISD has increased by approximately 3,000 percent since 2011. The increase is largely due to wireless and broadband improvements completed by the Dallas ISD Information Technology Services department during the past three years.
"Learning can be more personalized through technology and that couldn't happen without a strong wireless infrastructure in place," said Frank Tyminski, Assistant Superintendent of Information Technology. "Without the hardware and broadband and wireless infrastructure, we'd be stuck in the Industrial Age model of learning delivery."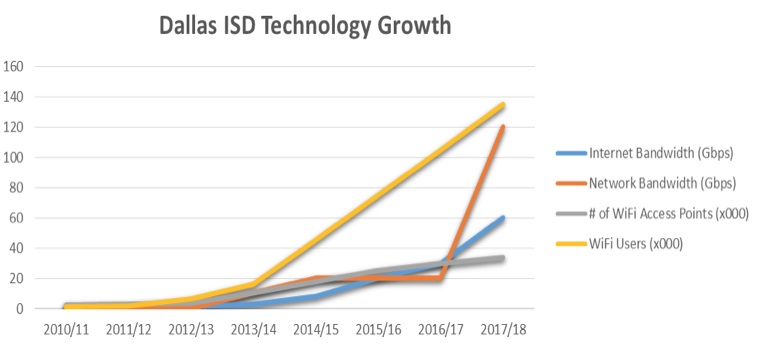 Dallas ISD's wireless and broadband capacity is significantly ahead of the national curve. In 2013, President Barack Obama called for a 1 Gigabit per second connection per school by 2017. Dallas ISD has exceeded this challenge by 20 times the capacity and four years ahead of Obama's goal.
The massive increase in capacity has resulted in a reduction of more than 30 percent in annual network operating costs, which is a savings of about $4 million per year.
"The savings is due to the district's negotiations and competitive purchasing of equipment and redesign of the network's infrastructure to leverage the power of new technologies," said Gary Shuman, Executive Director of Network Services. "These bold steps lead the K-12 education sector, with many districts following Dallas ISD's lead."
In addition to saving the district money, the increased capacity brings multiple benefits to the classroom. For one, usage of electronic curriculum, which provides teachers with access to online learning apps that supplement lesson plans, is on the rise. Meanwhile, enhanced access to streaming video allows more teachers to attend online trainings on more flexible schedules.
Other benefits of the increased wireless and broadband capacity include:
An increase in online meetings, briefings, and video conferences cut travel costs and time away from campuses;
Teacher Excellence Initiative-related videos provide additional support to teachers by demonstrating a variety of best practices;
More online formative assessments are happening in the classroom. An online formative assessment is essentially an online quiz that allows teachers to easily gauge student progress throughout the year.
A pilot program to create online student portfolios is underway. The program could allow a student's entire body of school work to be viewable online by the teacher, parents, and students. The school work may be shareable by educator teams;
A conversion to cloud storage reduces the risk of data exposure via lost or misplaced USB cards and reduces file duplicity via direct sharing versus email attachments.
Superintendent Mike Miles said with the state-of-the-art network now in place, Dallas ISD is prepared to respond to all future educational technology advancements and educational needs.
"We are focused on ensuring that our students are prepared for college and the workforce, not just now but far into the future," Miles said. "Because of our technology infrastructure, we will be able to take advantage of the rapid evolution of technology to ensure our students are successful."