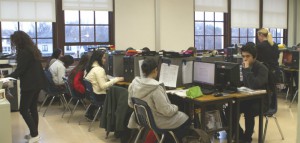 Just in time for the 2015 tax season, students in Woodrow Wilson's Academy of Finance have received IRS certification to assist with tax return preparation. Woodrow is one of only three schools in the state with students named certified IRS approved agents. This means they have Internal Revenue Service permission to complete and electronically file IRS tax returns free of charge through VITA, the Volunteer Income Tax Assistance program.
Starting Jan. 24, the students will set appointments to complete the 1040EZ and 1040 tax forms of taxpayers who sign up for filing assistance. The time students spend performing tax services will be considered community service hours granted by the IRS. The students' IRS agent certification requires that they adhere to best practices that protect clients' financial information. The Academy of Finance is required to complete and file 100 returns to be eligible to offer the service again next year.
Woodrow Wilson teacher Denise Tucker, director of the school's National Academy of Finance, said the students are scheduled to complete IRS certification on Jan. 20. "This has been a huge task," she said. "Our students have been working really hard, and we are so excited." Tucker requests those seeking filing assistance contact her at (972) 502-4400 to schedule tax preparation services. Students will return calls and set client appointments through April 15.
Dallas ISD's Academy and Career Pathway programs such as Wilson's Academy of Finance, mix rigorous learning and hands-on experiences to prepare students for challenges in college or the workplace. Students create and follow plans that connect their high school academic experiences to future career and college goals. While some academy and career pathway programs permit students to earn college credits in career and technology courses, others offer career licensing, accreditation and certification allowing students to graduate workplace ready.