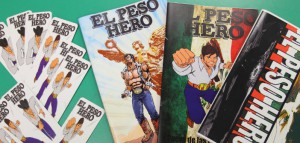 Editor's note: During the Thanksgiving holiday, The Hub will take a look back at some of the best and most popular stories from our first semester. This story was originally published on Oct. 10, 2014.
Hector Rodriguez, a first-grade dual-language teacher at Jerry Junkins Elementary School, never imagined that his artistic endeavors and his teaching career would intersect. As it turned out, his teaching influenced his art. Rodriguez is the author and illustrator of El Peso Hero, a comic book featuring a fictional Mexican superhero who is the voice and hero of immigrants along the Texas-Mexico border.
Being a teacher is what spurred Rodriguez to bring El Peso Hero to life. "Through teaching, I was able to see the impact that superheroes had on the students," he said. "Students followed characters such as Superman and Batman, but they didn't necessarily speak to them. They didn't speak their language, they didn't represent their culture, and they didn't come from the same background."
In 2011, after one year of teaching, he decided to get serious about drawing El Peso Hero. "I realized that Hispanic students didn't have a superhero that they could look up to," said Rodriguez. He originally created the superhero in 2003, while studying for his bachelor's degree at Texas Woman's University, but it was his experience as a teacher that resurrected the character.
At school, word of Rodriguez's artistic abilities quickly spread. Students and parents learned about his talents after a story about him aired on the local Univision station in 2012. The story by Univision news anchor Angel Pedrero, won the prestigious Emmy Award.
"The exposure was great," Rodriguez said. "Parents told me that they were very proud there was someone out there speaking for them. I also saw how much of an impact it had on the students' lives." After his interview on Univision, he was called to appear on national shows such as Primer Impacto, MSNBC Latino, CNN, Telemundo, Fusion, and in several publications including The Dallas Morning News.
Among the appeal of the comic book is that El Peso Hero speaks only Spanish. All of the other characters in the comic book speak English. It was important for Rodriguez to show diversity in his work.
The motivation that El Peso Hero sparked transformed his work with students in the classroom. Together, they began to create their own stories, and the students let their voices be heard. The students have created characters ranging from superhero pets to princesses, including many female lead characters. Rodriguez stays within the TEKS guidelines, while allowing his students to explore their creativity as writers. "I tell them that anybody can be a writer, and their teacher is going on the same journey as they are."
El Peso Hero's popularity continues to grow and several projects are currently in the works, including a short film about the superhero and a book geared toward elementary school students. For more information about El Peso Hero, go to www.elpesohero.com.