This is the last in a series highlighting the four Dallas ISD schools nominated for National Blue Ribbon status, one of the highest honors any school can achieve. Each year, the U.S. Department of Education announces the schools considered high performing or those where students are making significant improvements in achievement levels. Part one featured Henry W. Longfellow Career Exploration Academy and Dr. Wright L. Lassiter Jr. Early College High School.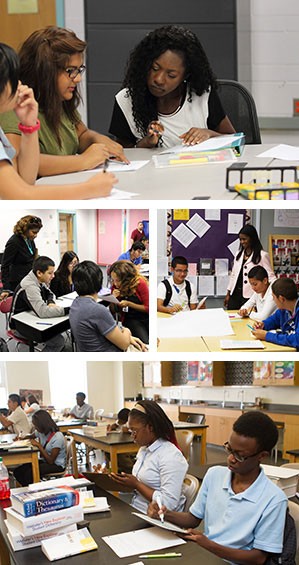 Just south of downtown, the School of Business and Management is one of six schools at the renowned Yvonne A. Ewell Townview Center. At SBM, more than 500 students from diverse backgrounds benefit from an innovative approach that offers a career-oriented college preparatory curriculum designed to meet global challenges in the new millennium.
Students spend grades 9 and 10 building a broad business foundation. By the time they reach grades 11 and 12, they choose from a wide range of specialized areas of study including: business management and administration/accounting and finance, fashion and sports and entertainment marketing, and technology (digital gaming and animation).
SBM students have a number of opportunities to earn career credentials and certifications, such as Microsoft Office and IC3 (Internet and Computing Core Certification), and gain valuable work experience through internships with local businesses. Recently, SBM launched its on-site internet radio station, which students help manage.
"Being nominated for such a prestigious national award is a true testament to the work that is being done at our school to close the achievement gap among minority students and increase the marketability of our students in higher education and the global marketplace," says Principal Michele Broughton.
Travel a little further south, and you'll find the fourth Blue Ribbon School nominee, Kathlyn Joy Gilliam Collegiate Academy. With nearly 97 percent of the student body considered minority and more than 80 percent identified as socioeconomically disadvantaged, GCA boldly accepts the challenges and defies the norm of urban public education. Driven by the district's core beliefs and strong student engagement, GCA continues to show significant progress and close the achievement gap among at-risk scholars.
By creating a culture of excellence where students are encouraged and challenged to achieve and feel appreciated for their efforts and accomplishments, GCA students can be confident that the school's motto—the best is yet to come–applies to each of their lives.
"Embracing the inner city youth of today and teaching them that the impossible is always possible if you work hard" is critical, says Principal Tamara Francis. In her second year as the school's top administrator, Francis is quick to credit the leadership of former principal Gayle Smith who worked to create an early college high school that would "cultivate eager young students and transform their habits of mind."
Every student at GCA is considered a scholar and the school's early college model ensures that each of them has access to a rigorous college readiness curriculum and college-credit courses. In concert with the Dallas County Community College District and the nearby University of North Texas at Dallas, GCA provides an opportunity for traditionally underserved scholars to earn a high school diploma while working toward a postsecondary degree.
"GCA understands the challenges and important work of tomorrow and is equipping a community of scholars to meet those challenges and do that very important work," said Francis.
The 2014 Blue Ribbon Schools are expected to be announced later in September.