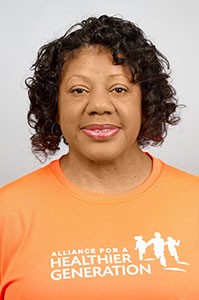 September has been a busy month for James Bowie Elementary physical education teacher Sharon Foster. She wrote a guest blogpost on the USDA website; got some one-on-one time with U.S. Senators John Cornyn and Ted Cruz, and U.S. Rep. Marc Veasey; and represented Bowie at the 2014 National Healthy School Awards, where she accepted the Gold Program Award from former U.S. President Bill Clinton.
"He was so engaging and really interested in what we were doing," Foster said of President Clinton. "I got a chance to speak with him before the event and tell him about Bowie and the great things we're accomplishing." Upon meeting Foster, her enthusiasm for creating a healthy community is apparent. She has a long track record of promoting healthy habits at Bowie.
Before the start of the 2010 school year, she received Principal Noelle Wilson's approval to take her efforts to the next level: the Alliance for a Healthier Generation Healthy Schools Program benchmarks. And the rest, as they say, is history. "Sharon Foster has championed the healthy schools cause for many years at James Bowie Elementary," said Wilson. "Her running club and fitness sponsors dramatically increase our students' level of exercise and healthy food choices."
Under Foster's leadership, Bowie earned the Alliance's Silver distinction in 2013, "I was in the audience last year and told myself, 'Next year, I'm going to be up on that stage,'" said Foster. In 2014, the school was one of only six in the country to earn a Gold Program Award. Thanks to Foster's determination, the school met all the requirements for the recognition. For incentives, the students get healthy smoothies instead of candy. Three days a week she leads a 90-minute running club for students after school, and on two Saturdays each month you can find them participating in three-mile race events – a program Foster funded through a grant writing campaign.
The school has been recognized as a Healthy Zone School, and students take part in the NFL Play 60 and the Mayor's Youth Fitness Initiative, MyFi Dallas. This year, Foster also secured a partnership with the Dallas Sidekicks professional indoor soccer club. "The students will get to go to some games, and a few of the players will visit the school on different occasions," she explained. "The kids are so excited! It's really great to see their enthusiasm."
Foster's dedication to healthy living and fitness has earned her the distinction of serving as a Healthy Schools Program Ambassador. In this role she helps schools across the country adopt ideas to achieve the health benchmarks and connects with other leaders in school wellness. Her goal for this school year is to repeat as a Gold Award winner. Given her dedication, the odds are in her favor.