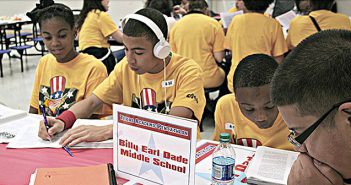 Dallas ISD's Student Activities department sponsors dozens of academic competitions that encourage students to expand their knowledge base and test how they measure up against their peers. The competitions run from September through May, and there is a competition for almost every academic skill and skill level.
Some 4,000 district students participated in academic competitions last year. Hoping to increase that number, Student Activities has developed a yearlong calendar at https://www.dallasisd.org/studentactivities showing the dates and types of competitions. Schools are encouraged to review the list and begin preparing to field teams.
The competitions are fun and educational. Debate, chess, speech and science competitions all require students to practice and polish their knowledge of contest topics, a process that reinforces classroom learning, said Sharla Hudspeth, director of Student Activities. "All of the academic events serve as an extension to the knowledge and skills learned in the classroom. While preparing for competitions, students are not only reinforcing competency in the learning objectives but also in test-taking skills."
From the students' perspective, maybe most important is that the contests are upbeat, and are conducted in a kid-friendly environment where students dress in competition shirts and show a high level of team spirit. Winners walk away with ribbons and trophies.
Students have a vast array of competitions from which to choose. Destination Imagination is an international academic competition that challenges students to find creative solutions to complex problems. In Academic Decathlon, nine-member high school teams match wits with their peers in speech, interviewing and essay writing. The competition also features written exams in music, language and literature, economics and social sciences. Add to that 40 individual and team events sponsored by the University Interscholastic League. This year, a pilot program is adding Robotics to the contest line up.
As principals make the decision about whether to get their schools involved, Hudspeth said they should keep in mind the pluses of offering students a rich variety of extracurricular activities.
"Principals need to know the competitions are fun and provide students the opportunity to compete in individual and team events – just like band and athletics," she said. "Academic competitions provide an extrinsic motivation for academic progress by allowing students to receive recognition for their accomplishments." At the high school level, students can also win scholarships.
For an overview of the academic competitions sponsored by Student Activities, and to learn how to sign up your school, the department has posted an informative video at http://youtu.be/dG1NsEI9kI8.