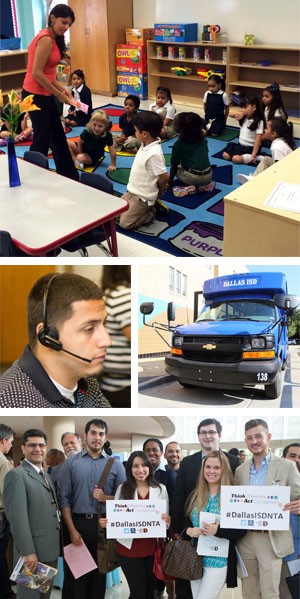 With Week One in the rearview mirror, the Dallas ISD has many successes to celebrate surrounding the start of the 2014-2015 school year.
Staffing
One of the largest successes was starting the school year with 10,600 qualified teachers. This year, the Dallas ISD made history by filling 99.9 percent of the district's teaching positions before the first day of school. Human Capital Management's focused efforts on recruiting and hiring placed a teacher in all but 14 classrooms across the district at the start of the school year.
Call Center
Operators for Dallas ISD Connect, the district's call center, ended the first week of school having fielded more than 8,500 calls about transportation, enrollment and other district-related questions from parents and community members.
Enrollment
School staffs welcomed 143,552 students back to school on the first day. By the end of the first week of school, enrollment rose to 156,187 students.