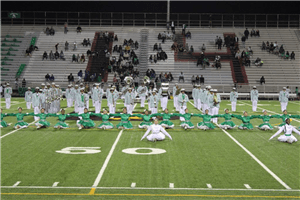 The Belles, the dance team at Bryan Adams High School, has a tradition dating back to 1957. With 48 members consisting of 10th through 12th grade girls, the young ladies began rehearsals in June to get ready for the busy school year.
Due to the Belles' popularity and the growing interest in dance at Bryan Adams, a freshman team also has been added. The dance team, called the Kellie Spirit Dancers, is new this year. Amy Solorio, who has been the dance director for the last eight years, said that they are trying to bridge the gap for incoming 9th grade, as it will allow them to train dancers to prepare them for the varsity level.
Not only do the Belles play an important role in helping ignite school spirit, but being a member also benefits the young ladies as individuals.
"It is amazing to hear the seniors speak about how the Belles organization kept them on a strong pathway, allowing them to be active throughout their high school years. It teaches them discipline and determination, promotes hard work and most of all, builds confidence," said Solorio.
The skills that are learned on the team extend beyond their high school years.
"If I had not been a part of this sisterhood, I would not have been prepared for the social and academic experience that is college. Balancing a high school schedule filled with dance practice, performances and study hours prepared me for the more strenuous schedule of college life," said Rosaura Cruz-Webb, a Bryan Adams alumnus and former Belle. A true success story, Cruz-Webb went on to graduate from The University of North Texas and is now the program director for Junior Players, a non-profit organization geared towards the performing arts.
"A few words that represent what the green and white petticoat meant to me are: serenity, change, courage and wisdom," said Cruz-Webb.
From varsity football games to the Dallas Dance Festival, you can catch the Belles performing in their signature green and white petticoat uniform. The next varsity football game will be on August 28 against Roosevelt High School at the Forester Athletic Complex.