Growing up in a household where some topics were taboo, Skyline High School senior Rosalynn C. decided to be the change she wanted to see in her community. When she first stepped onto one of the largest high school campuses in Texas, it was a bit overwhelming for someone who had just left a middle school with fewer than 40 students in her eighth-grade class.
"Coming from a school that small to Skyline where there are at least 1,000 students in each grade was scary, and I had to go through a lot of transitions," Rosalynn said. But after gaining her footing, she realized that fashion was her calling, and she soon found a way to use that calling to promote body positivity for other girls.
During the first year in Skyline's fashion cluster, students are required to take both fashion design and fashion marketing courses and decide at the end of the second semester which route to take. With her love of fashion, community, and business, Rosalynn was drawn to fashion marketing. She joined DECA (formerly Distributive Education Clubs of America), an organization that prepares students to become emerging leaders and entrepreneurs in marketing, finance, hospitality, and management.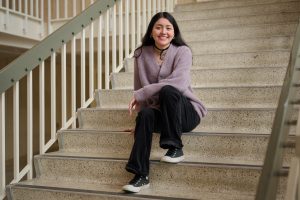 In her junior year, during which her team qualified for the nationals in the DECA competition, Rosalynn knew she had made the right choice. She and her teammates submitted their project in the "community giving" category. "We wanted to do something that was going to help this community in some way," she said. Their 20-page plan was centered around dresses and positive body image and involved getting partners to donate dresses for students at Skyline.
With that first national competition year under their belt, Rosalynn and her teammates decided to take it up a notch and submit in the same category but with a new idea and a lot more work. "We came up with Project Happy Flow, aimed at making sure girls felt comfortable in their bodies while on their monthly cycle," she said. "It's a taboo subject in my house, but with this, I can help girls who go through the same thing I do outside of school."
With this project, during her senior year, she and the team again qualified for the national DECA competition. As a part of their project, they were able to collect more than 2,000 feminine hygiene products to donate to an orphanage and homeless and women's shelters in the area.
Joining the DECA team and the Fashion Marketing cluster has already put Rosalynn on track to star in her career. "By choosing this path, I will graduate with 18 college credits and be ahead of the curve," she said. "DECA really made me love this cluster and I'm really grateful it showed me how I can help my community."
Knowing that she could choose a career path that allows her to serve her community and her family while supporting herself solidified her choice. Rosalynn worked hard, dedicating her time and energy to stitch a future for herself and her community, and has been offered a scholarship to St. Mary's College of Notre Dame.
She credits her fashion marketing teacher, Ms. Lark, with creating a safe space, knowing what it's like to be in her shoes, and being a "breath of fresh air" in the last two years as she prepared for her next steps in life. "She really pushes us to do our best 100 percent of the time."
"I would advise anyone who is coming to this school unsure of what to pursue to try fashion marketing," Rosalynn said. And another word of advice: "I am a procrastinator at heart, and that would be the number one thing not to do. Please just get your rest and don't be scared."