When it comes to softball legends, Coach Tim Taylor from Moises E. Molina High School will forever be etched in the Dallas ISD history books as the first coach to record 500 wins.
"I want it to be on the record that Coach Taylor is the GOAT—the greatest of all time—of softball coaches and you won't find anyone better," said Athletic Coordinator Lance Bruner, beaming with pride.
On a night filled with anticipation and home runs, Coach Taylor and the Molina Jaguars defeated Arlington Seguin by a score of 14-5 last month and earning the legend his 500th win in the district.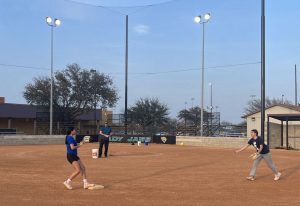 "You see my name up there with 500 wins beside it, but it really should go to those 250-plus girls who have played for me over the years, because they have been the ones to do it, not me," said Head Coach Tim Taylor.
Not only is Coach Taylor known within the athletic community but he is also recognized as the go-to man on campus. In 1994, Taylor started his Dallas ISD career at Sunset High School, and when Molina opened its doors in 1997, he was the second person hired after the then-principal.
"My brother attended here and told me about how good the coach was, and at first, I wanted to go to Booker T. Washington High School to pursue band, but I decided to stay at my home campus and be coached by him," said senior team leader Victoria Rodriguez.
Taylor's name rings bells throughout the metroplex not only for having 500 wins but also for accumulating 14 district softball titles.
"You can't go to the grocery store or even get gas without finding someone who has been coached or taught by him," Bruner said.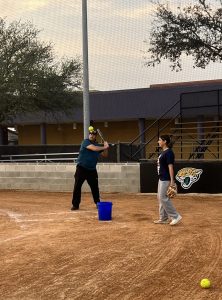 Junior catcher Miranda Serrato's dad worked with Taylor in the past and when he left for a new position and she had to decide whether to leave with him or stay at Molina, she made the "best decision ever" and stayed.
"I heard through the grapevine that this team wins a lot, and I like to win," she said.
Taylor's impact and his mark on Molina and the softball community is an undeniable fact.
"Coach Taylor really taught me how to play this game. He put me in different training camps to better my skills and he pushes me to my greatest potential in life," Rodriguez said.
Taylor credits his success to the girls he's coached over the years and to his coaching team.
"Besides our discipline, hard work, and high expectations, I credit my success to the good people I have always had around me," he said. "These girls have been like my daughters and granddaughters over the years, and I have always had the best assistant coaches."
Coach Taylor does have plans to retire from Molina, but not anytime soon, he says, adding that he has "about 10 more years left in the tank."