En anticipación del Final Four femenino de 2023 de la NCAA, los estudiantes de T. G. Terry Elementary School dieron inicio al programa de lectura "Read to the Final Four". Andrea Riley, miembro del Salón de la Fama de Dallas ISD y Veronica Burton, basquetbolista de las Dallas Wings, acompañó a los estudiantes en la celebración y los animó a participar en el desafío. T. G. Terry se llevó los más altos honores en 2017 cuando el Final Four femenino tuvo lugar en Dallas. Ese año, 61 estudiantes leyeron un promedio de 1841 minutos cada uno.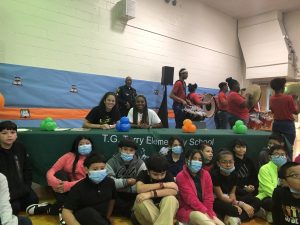 El programa de lectura de este año es una colaboración entre la NCAA, Women's Final Four y el Comité Organizador Local de Dallas, y el objetivo es hacer de la lectura una actividad emocionante para los estudiantes del área.
Para obtener más información sobre "Road to Final Four" o el fin de semana de celebración por el Final Four femenino, visite NCAA.com/WomensFinalFour.