Ever wondered how Dallas ISD chooses new and exciting food items for its school lunch menu? In a partnership between the Food and Child Nutrition Services department (FCNS) and the Dallas Teen School Board, the district is able to redefine the way students and staff experience food. 
Every month, the Dallas Teen School Board, a student advisory group consisting of the district's high school junior and senior presidents, meets to discuss various topics concerning their campuses. Recently, the Teen School Board was tasked with a special assignment –  the opportunity to taste-test various flavors of cold brew coffee and two kinds of sandwiches. 
Cold brew coffee to awaken the senses
The FCNS department's cold brew coffee can be made from the customer's choice of either 1% low fat milk or fat-free chocolate milk for a delicious mocha coffee experience. Students were also given the option of sugar-free vanilla, hazelnut and caramel flavors. Forty students from high schools across the district provided essential feedback indicating that cold brew coffee has the potential to be a big success.
Caramel and vanilla were the most popular flavors, and the overall favorite was vanilla. "This is amazing," "I am happy we will have coffee at school," "I love the flavors," and "I can't wait for my school to offer coffee during breakfast time," were just some of the comments voiced by students during the taste-testing.
Currently, only three Dallas ISD high schools have piloted cold brew coffee, and FCNS plans to officially launch the drink in the 2023-2024 school year.
Chicken chipotle sandwich vs barbecue-style beef sandwich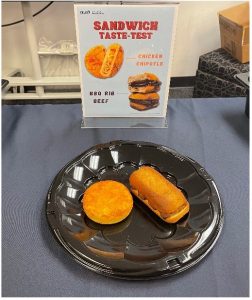 The Teen School Board also met to taste-test and share thoughts on a chicken chipotle sandwich made of 100% organic grains and locally sourced non-GMO natural ingredients. Its opponent, the beef barbecue sandwich, is a rib-style sandwich glazed with barbecue sauce and served on a whole grain roll. Both meals come individually packaged, which means they are easily prepared, can be eaten on the go and leave little to no mess for easy cleanup.
"I like them both, but my favorite was the chipotle for sure," said Madeline, a high school senior and secretary on the Teen School Board. "I feel like the chipotle sandwich had more flavor and I really liked that it felt more like a wrap instead of a regular sandwich between two pieces of bread."