Dallas ISD's Risk Management Department celebrated the accomplishments of 21 schools on Friday, August 19, recognizing campuses who showcase a commitment to safety beyond measure.
Throughout the year, schools hold in-house inspections and safety training, practicing emergency protocols, distributing safety material, and promoting safety in their day-to-day routine. The school that has accumulated the most points at the end of the year will receive the prestigious Eagle Safety Award and be crowned Dallas ISD's Safest School.
"On behalf of Dallas ISD and Risk Management, I would like to thank all the safety coordinators throughout the district for their effort in making their campus and the district safe for our students, staff, and visitors. We appreciate the hard work and dedication to the safety program," said Risk Management Executive Director Barbara Neal.
During a time when safety is Dallas ISD's top priority, it is always fun to throw some friendly competition into the mix.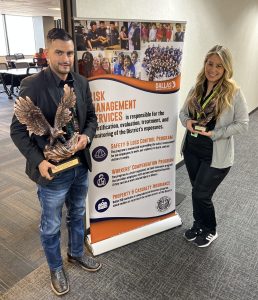 The 2021-2022 first place winner is Principal Tito Salas from John F. Peeler Elementary School, and coming in second is his wife, Karina Almendarez, who is the P.E. coach and safety coordinator at Henry B. Gonzalez Personalized Learning Academy. The pair traded places from 2020-2021, when Gonzalez Learning Academy earned first place and Peeler Elementary came in second. The couple has children who attend Gonzalez together.
"As the safety coordinator, it feels amazing to bring this award back home because I know it is not just me, but a team effort to ensure that our community stays safe," Almendarez said.
Salas said, "Outside of the competition, I am a parent with students at my wife's school, and just like others I'm concerned about their safety as well. It gives me peace of mind to know that my children are at a school where they make it a top priority as we do."
Twenty-one schools (including two that tied) received a plaque and an incentive award ($1000 for all but Peeler, which received $1500), and attended a celebration at the Dallas ISD Administration Building.
Congratulations to the Top 21 Safest Schools in Dallas ISD:
John F. Peeler Elementary
Henry B. Gonzalez Personalized Learning Academy
Multiple Careers Magnet Center
Gilbert Cuellar Sr. Elementary
Montessori Academy at Onesimo Hernandez
Charmaine and Robert Price Career Institute South
Eduardo Mata Montessori
W. Harllee Early Childhood Center
School for the Talented and Gifted in Pleasant Grove
Reinhardt Elementary
Pleasant Grove Elementary
Larry G. Smith Elementary
Harry C. Withers Elementary
Nancy J. Cochran Elementary
Preston Hollow Elementary
Moises E. Molina High
Arturo Salazar Elementary
Wilmer Hutchins High
Frederick D. Haynes III Global Preparatory Academy at Paul Quinn College
Nathaniel Hawthorne Elementary; Downtown Montessori at Ida B. Wells Academy (tied)