Christopher Jenkins, reset center coordinator at Ann Richards STEAM Academy, has seen what can happen to young people when they lack a system of support.
As a former parole officer for the State of Texas, he realized that his parolees all shared a similar story:  "The majority of them grew up with a mom who gave them the world, but Dad was absent, and they didn't have a support system. They all shared that most of their issues began in school where they lacked any desire to gain a successful education and began acting up."
In his last year as a parole officer, he says, "I  worked with two parolees who helped to shift my career path toward education: One of my cases involved  a young man about my age at the time, who was preparing to be released. When I asked him for the address where he'd be staying, he refused to provide it. He said he didn't want to leave prison because of the support and stability he received there. The second was a parolee in his late fifties or sixties who had been institutionalized so long that any time things didn't go his way, he would turn to alcohol and purposely create situations that would put him back in prison.
"The overwhelming trend I saw was their need for a system of support. I felt that education was the best route to go. I wanted to make an impact in the lives of others before they ended up in the correctional system."
Now, after 10 years in education, eight of them in Dallas ISD, Jenkins is a coordinator at one of the district's 52 reset centers, helping to create that system of support for the students who need it.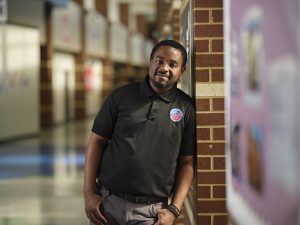 "The biggest impact I've seen is that reset has created a safe space for students at Ann Richards STEAM Academy. They know that when they come here, this is a place where they can share the experiences at home or at school that have led them to make poor decisions and mistakes. They also feel safe to share and learn ways to address their misbehaviors and see the bigger picture for how to be successful in school and in life."
Last school year, in an effort to improve an antiquated discipline system that district leaders said was not working for students of color, Dallas ISD ended most disciplinary suspensions, instead incorporating "reset centers" in middle and high schools while still having any serious infractions go through the disciplinary alternative education program.
The culture of the reset center is having a big impact on the overall data for Ann Richards STEAM Academy, Jenkins said. "During the 2021-2022 school year, the school has seen a 37% decrease in the number of behavior referrals as compared to the same time in the 2019-2020 school year."
While the center is still a work in progress for the campus, he said, he's seen good results for those students who take advantage of the program.  "For students who are legitimately internalizing what they are learning in reset, I have had parents share that their students are taking what they've learned and sharing it with their families at home. Parents have told me that their students are practicing mindfulness at home and have even taught them how to practice it themselves. Those students are taking what they've learned in the reset center and it is impacting them in a positive way."
Jenkins has many ideas for further developing the center at Ann Richards, and the first is building partnerships. "We have to bring our community partnerships back to help our campus and students be successful. I want to find ways to support families even more so that they can support their students."
His second goal is to develop a mentoring program for students. "Prior to Covid, we had a mentoring program that targeted students who could get lost in the shuffle or slip between the cracks. This program paired students and teacher mentors who would meet weekly to engage students in building relationships with their teachers outside of focusing on content. This is definitely an initiative that I want to bring back to Ann Richards, as I strongly believe we are missing a critical opportunity to engage with our students. Many of our students don't have anyone to go to for support and guidance when they leave the campus."
For others in the reset center role, Jenkins has this advice: "Pack your patience. With the inception of reset and restorative practices comes a lot of questions and a lot of uncertainty. You are going to be faced with a lot of questions you may not have the answer to. Stay the course and don't let this deter you from the purpose of reset.
"Secondly, tap into your own creative genius. Now is the time to dust off those innovative ideas you may have that you've not had the opportunity to use in the past, especially if you were in the classroom. Get creative with how you engage your students with restorative practices and support them in making better choices that are going to help them be successful in school and beyond."