Kathlyn Joy Gilliam Collegiate Academy and Trinidad Garza Early College High School at Mountain View have earned National Blue Ribbon School status for the second time in less than a decade.
National Blue Ribbon status is one of the highest U.S. Department of Education recognitions for campuses where students perform at very high levels or where exemplary progress is being made toward closing achievement gaps.
Both campuses are among the first Early College High Schools (ECHS) built by Dallas ISD. Each ECHS partners with a higher education institution to offer students the opportunity to earn credit for both high school and college courses. College tuition fees are waived, allowing students the possibility of earning an associate degree or up to 60 hours of college credit – which can be applied toward a four-year degree – upon high school graduation.
"Kathlyn Joy Gilliam Collegiate Academy and Trinidad Garza Early College High School have a history of success for all students no matter the demographics, academic background, or income status," said Cheryl Nevels, executive director of Dallas ISD's P-TECH & Early College Programs. "The goal of increasing college attendance for historically underrepresented scholars is being realized through the rigorous coursework, the culture of excellence, and the firm academic foundations these campuses are providing. Preparing scholars to achieve college and career success is second nature for these campuses. They truly believe that every child can achieve if provided the chance to do so each and every day. We are honored that two of our early colleges received national recognition, once again, for being among America's most successful schools."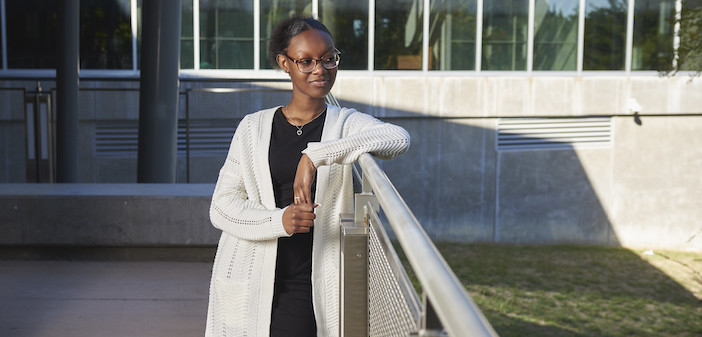 The Kathlyn Joy Gilliam Collegiate Academy partners with Dallas College Cedar Valley Campus to develop students from minority and low-income communities into scholars who excel at college work. The collegiate academy was able to earn National Blue Ribbon status in 2014, as well as this year, mainly because their vision – college access and success for all –  remains unchanged since the campus opened in 2008, said Gayle Rodgers, the campus' inaugural and current principal.
"We were able to achieve this goal because of our positive school culture, our committed staff, our committed scholars, our committed parents and our committed partners like Cedar Valley College, the University of North Texas at Dallas and the district-level support that Dallas ISD has provided," Rodgers said. "This is possible, once again, because our community understands the importance of coming together as a school and as a team of stakeholders."
Housed inside the Dallas College Mountain View Campus, Trinidad "Trini" Garza Early College High School offers a supportive academic program that blends high school and college work. Garza ECHS first earned National Blue Ribbon status in 2015, when the current principal, Macario Hernandez, was working as assistant principal. Hernandez said the school's biggest strength is a culture of acceptance, inclusion and unity, which hones excellence, motivation and creativity in both his students and staff.
"We have an equity focus on our campus and a school climate where everyone feels valued. We really believe in respecting and valuing the living experience of our students, their families and community members. We really feel like they bring a lot of wealth to the school," Hernandez said. "Our students get to create their own clubs, are involved in civic engagement organizations, and have the autonomy to be themselves. And when you create a culture of inclusiveness, that opens a door where teachers want to go to work, kids want to come to school, and where everyone feels like they matter and that they're going to be respected."
About Dallas ISD ECHS, Collegiate Academies and P-TECH programs
The P-TECH and Early College High Schools / Collegiate Academies are designed to serve incoming ninth–grade students who have the determination to attend college, are first-generation college students, and have been historically underrepresented in higher education. Dallas ISD manages eight traditional Early College High Schools (ECHS), and 18 Pathways in Technology Early College High Schools (P-TECH).
Each high school has a higher education partner and offers its own academic pathway leading to an Associate of Arts, Associate of Applied Science or Associate of Science degree. The career pathways available to students range from health sciences, information technology and cyber security to early childhood education, criminal justice, business and more.
Each school accepts 125 ninth–grade students per year. Students attend ninth and tenth grades in the Early College High School or Collegiate Academy wing of their high school campus, where they will complete their basic courses and receive in-depth instruction to prepare them for college success. Starting their junior year, students receive free transportation to attend classes on the campus of their community college partner, where they will continue their studies until graduation.