Vistos los daños que ocasionó un tornado el noroeste de Dallas, un maestro de Dallas ISD tocó las puertas de varios negocios locales que podrían brindar ayuda.
José Armendáriz es un maestro bilingüe de kínder en Pershing Elementary School. Su perseverancia resultó en una donación de útiles valorada en más de $30,000.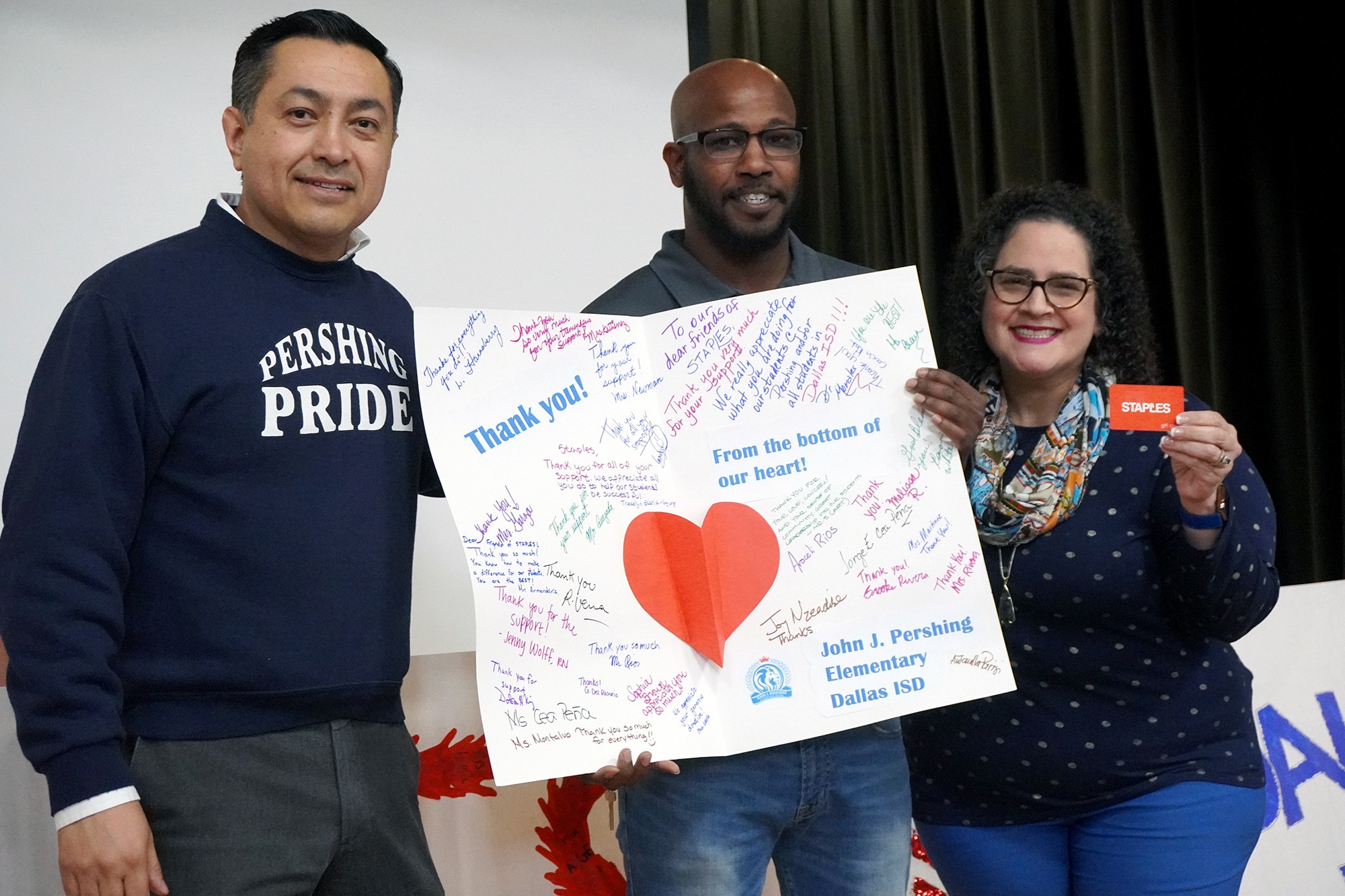 Pershing es una de las tres escuelas dañadas cuyos estudiantes fueron trasladados a Loos Field House. Ese mismo día, Armendáriz visitó la tienda Staples en Addison, ubicada a dos millas de Loos.
"Me rompió el corazón ver los escombros por la vecindad", expresó Armendáriz. "Pensé que una donación, por más mínima que fuera, aliviaría el estrés no solo de los maestros, sino también de los estudiantes y sus familias".
Armendáriz habló con el gerente de Staples, Henry Smith, quien se interesó en ayudar. Le pidió a Armendáriz enviarle un correo electrónico con más detalles de lo sucedido y de lo que se necesitaba.
Unos días después, el maestro recibió una llamada del gerente diciéndole que Staples donaría $35,000 en forma de útiles a Dallas ISD. La directora de Pershing, Lourdes Morales-Figueroa, expresó que agradece el apoyo que la comunidad brindó para la escuela tras la tormenta. Aprecia a su personal por haber dado lo mejor de sí en un momento tan difícil.
BIG thank you to @staples for gathering and donating more than $30,000 in supplies for our school communities impacted by the Oct. 20 storm.#DallasISDStrong #DallasISDPartners pic.twitter.com/EoDG3AWcCT

— Dallas ISD (@dallasschools) November 7, 2019
"Esto nos sirve como una lección de esperanza y perseverancia", dijo la directora. "Cuando uno va tocando puertas pidiendo ayuda, piensa que quizá no resultará, pero en este caso sí nos ayudaron. Siempre vale la pena intentar".
La donación de Staples se destinó a Dallas ISD como distrito, pero el gerente Smith también quería hacer algo por Pershing Elementary School, ya que fue de parte de esa primaria que se comunicó el Sr. Armendáriz. El 13 de noviembre, el gerente visitó la primaria presentando un certificado de $500.
Los maestros y estudiantes recibieron al Sr. Smith con una pancarta decorada con manos de papel. Los maestros firmaron una tarjeta de agradecimiento para el Sr. Smith y para el personal de Staples en Addison.
"Recibir esta tarjeta nos dice que agradecen la ayuda que les brindamos", comentó Smith. "De igual manera, agradezco la tarjeta. La colocaré en la oficina para que podamos verla todos los días y recordar lo que hicimos por los miembros de esta escuela, y cómo nos agradecieron ellos a nosotros también".