What kinds of facilities will Dallas ISD students need in year 2020 and beyond? How will the district keep pace with technology developments? What actions are necessary to ensure racial equity in the distribution of future facility improvements?
Some 90 district parents, teachers and alumni joined officials of Dallas ISD, the city of Dallas, representatives of the business and nonprofit communities and faith leaders at the Tuesday, Sept. 17, launch of the Citizens Bond Steering Committee. The group was formed by district trustees and leadership to explore needs and answer these and other questions in advance of a planned November 2020 bond election.
Superintendent of Schools Michael Hinojosa and School Board President Justin Henry welcomed the volunteers and staff members selected to study the district's facility needs and make recommendations for the next bond program. The two citizen co-chairs of the effort, Dallas Regional Chamber Sr. Vice-President Drex Owusu and architect Craig Reynolds, opened the meeting by setting the stage for the yearlong planning process. Both explained the importance of community input in the process that is expected to result in a November 2020 proposal asking Dallas voters to approve the sale of bonds to fund a range of school and district facility needs.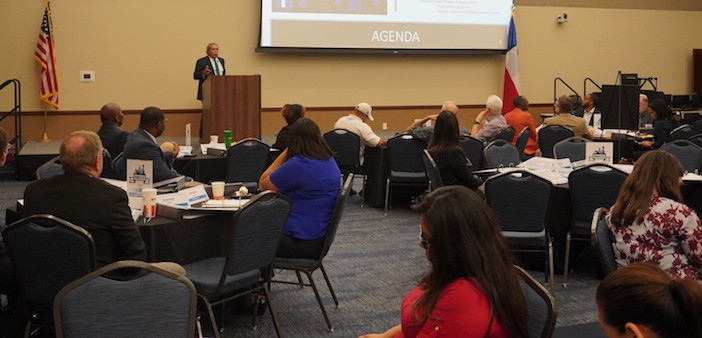 BEGINNING WITH THE END IN MIND
"We're beginning this work with the end in mind," Hinojosa said. The group is comprised of an executive committee and seven subcommittees—Academics, Athletics, Finance, Technology, Maintenance, Safety/Security and Transformation and Innovation.
He said the ad hoc group will serve in a purely advisory role, studying multiple issues related to facility and program improvements and reaching consensus on recommendations for the district's future.  "While your input will be taken seriously and your recommendations will carry a lot of weight, it is the responsibility of the board to decide the final shape of any bond package," Hinojosa said. Ultimately, he said he hopes the committee will help garner community support for whatever bond package results from the group's discussions.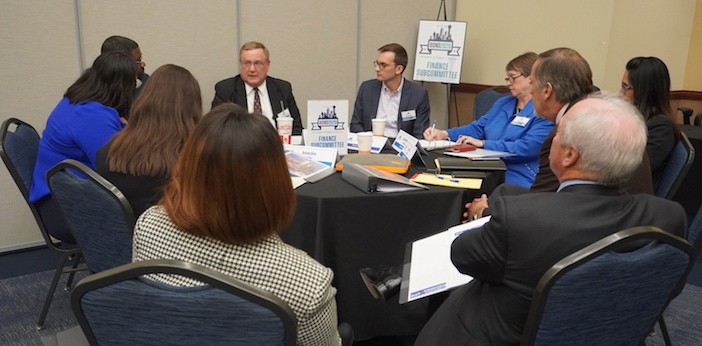 HISTORY OF RECENT DISTRICT BOND PROGRAMS
Deputy Superintendent of Operations Scott Layne walked the group through an extensive presentation in which he discussed the facility improvements funded by bond programs in 2002, 2008 and 2015. Even with more than $5 billion dollars for facility improvements, Layne said spreading that sum between 230+ buildings fell far short of what was neccessary to put a dent in needed upgrades.
To overcome the challenge of too many aging buildings, a scattershot process of improvements, and a backlog of deferred maintenance, Layne said the district launched a Long-Range Master Plan. He said the strategic plan is based on a thorough study of all district buildings and will allow the district to "put more money in fewer buildings instead of putting a little money in a lot of buildings," resulting in clearer priorities and better-looking schools.
With the master plan as a springboard, Layne presented before and after photos of more than 20 district schools either currently receiving upgrades or pending final board approval for renovations, including plans to build five new schools:
Jill Stone in Vickery Meadow
Nathaniel Hawthorne in Pleasant Grove
Wilmer Elementary in Wilmer, TX
Pinkston in West Dallas
H. S. Thompson in south Dallas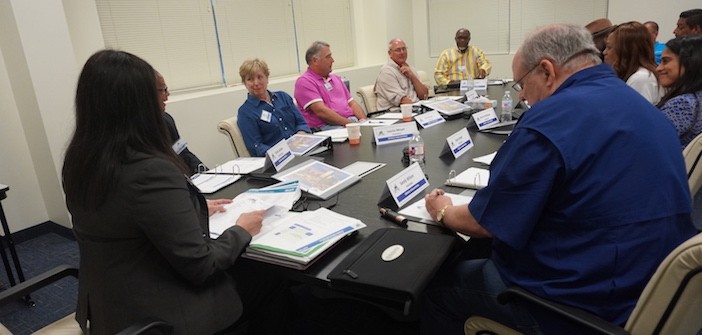 TECHNOLOGY NEEDS WILL TAKE CENTER STAGE IN FUTURE PLANS
Following the 2015 Bond Program, Technology Chief Jack Kelanic said his team developed a technology plan that has overhauled the district's technology services. To date:
The district has upgraded technology on all campuses across the district
70% of students are now experiencing some type of digital learning
There is now a 1 to 1 technology ratio at high school and middle schools
All campuses have received security-related technology upgrades
To continue the aggressive technology upgrades and keep pace with needs, Kelanic said the effort will require a cash infusion, which represents the major charge for the Bond 2020 technology subcommittee.
THE ROAD TO BOND 2020
Plans call for the members of the seven subcommittees to meet monthly through December to conduct research, compare notes, make suggestions and discuss the needs in their assigned areas. The group will share ideas at a series of community meetings in February and March, begin to consolidate their recommendations in April and present their findings to board members in a series of meetings culminating in final recommendations to the bond election in August in time for trustees to decide whether to call the bond election for Nov. 3, 2020.