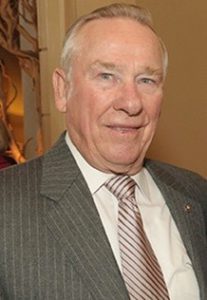 During the final board meeting of the 2017-2018 school year, Dallas ISD trustees approved a measure to rename its new headquarters located at 9400 North Central Expressway to the Linus D. Wright Dallas ISD Administration Building.
Former educators and community members also attended the June 21 meeting, many of whom spoke during the public comment portion of the meeting, in support of the name change.
"I met Linus 20 years ago when I was with the Rotary Club of Dallas…No one is more honorable or accomplished than Linus," said John Buhl, community member. "He put the district on a high level of academic achievement that made it very competitive for large urban districts."
President of the Dallas Retired Teachers Association, Verna Brown Mitchell, and a former Dallas ISD administrator who was appointed by Wright during her decades-long tenure as an educator, also spoke in favor of the renaming.
"His life has been centered around improving educational experiences for all students nationally, [in]the state of Texas and, more specifically, [in]the Dallas Independent School District," Mitchell said. "Even today, Mr. Wright continues to promote educational efforts that impact students, active teachers and retired public school personnel."
The vote passed unanimously and will go into effect on July 1.
Each year, the board considers recommended name changes for district facilities, which must be approved by the full board during the June board meeting.
By policy, proposed changes must be submitted prior to April 1 to be included in that year's consideration process. This year, several other name changes were also approved for the upcoming 2018-2019 school year:
A. Maceo Smith New Tech High School to New Tech High School at B.F. Darrell High School
Alex Sanger Elementary School to Alex Sanger Preparatory School
Ann Richards Middle School to Ann Richards STEAM Academy
Barack Obama Male Leadership Academy at B.F. Darrell to Barack Obama Male Leadership Academy at A. Maceo Smith
Benjamin Franklin Middle School to Benjamin Franklin International Exploratory Academy
Dallas County Schools Technology and Training Center to Turney W. Leonard Governance and Training Center
Dual Language TAG at Pleasant Grove to School for the Talented and Gifted in Pleasant Grove
George B. Dealey Montessori Vanguard to George B. Dealey Montessori Academy
Harry Stone Montessori Vanguard to Harry Stone Montessori Academy
Learning Alternative Center for Empowering Youth to Barbara M. Manns Middle School for the Disciplinary Alternative Education Program(DAEP)
Mount Auburn Elementary School to Mount Auburn STEAM Academy
Onesimo Hernandez Elementary School to Montessori Academy at Onesimo Hernandez
Sam Houston Elementary School to Personalized Learning Preparatory at Sam Houston
School Community Guidance Center to Barbara M. Manns High School for the Disciplinary Alternative Education Program (DAEP)
Seagoville Agricultural Barn to Wayne Phillips Agricultural Science Center
Sudie L. Williams Elementary School to Sudie L. Williams Talented and Gifted Academy
Sunset High School baseball field to Abe Barnett Field