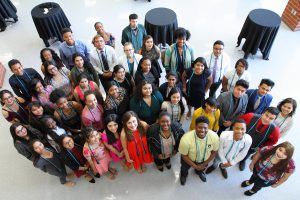 Sixty-two graduating seniors in Dallas ISD's Class of 2018 were recognized on Wednesday, April 18, with Superintendent's Scholarships.
Each honoree received $2,500 to go toward costs at the college or university of their choice. Selection for the Superintendent's Scholarship Program is based on need, character, grades, recommendations and the promise of future success. The scholarships are funded with proceeds from the annual Superintendent's Golf Tournament.
Two other scholarship awards were also announced during the ceremony:
This year's Sulentic Famly Foundation Scholarship recipients are Lal Lawmi, Emmett J. Conrad High School; Kateryna Desheva, Hillcrest High School; and Fatima Mendoza, Irma Rangel Young Women's Leadership School.
The Jose "Joe" May Scholarship, named after the former Dallas ISD trustee, is awarded to the Superintendent's Scholarship recipient with the highest GPA. This year, that is Sasha Thomas, School of Science and Engineering.