This year's project in the CREW Careers: Building Opportunities® "Building a Community" program sent teams from seven Dallas ISD high schools back to school – an old school.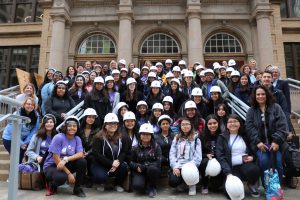 Now in its 13th year of partnership with Dallas ISD, the mock development competition focused on ways the students would redevelop the Dallas High School/Crozier Tech property in downtown Dallas near Pearl and Bryan streets. Teams from W.H. Adamson, Bryan Adams, Skyline, H. Grady Spruce, Sunset and W.T. White and Woodrow Wilson high schools created plans and presented them to judges.
Woodrow Wilson took first place in this year's contest, with Bryan Adams coming in second.
CREW (Commercial Real Estate Women) members work with students and introduce high school-aged girls to career opportunities in commercial real estate, learn the basics of the business and have direct contact with some of the industry's top women professionals.
The former Dallas High School building is being transformed into a mixed-use development with office and restaurant space.
"CREW enjoyed working with these bright young women, and look forward to seeing their success in the coming years," said Holly Powers, CREW project leader.