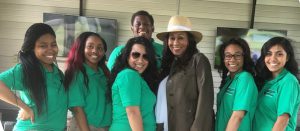 The Academy of Hospitality and Tourism and the Academy of Engineering at Justin F. Kimball High School both recently received NAF Distinguished recognition for the 2016-2017 school year, one of only 32 high schools in the U.S. to achieve Distinguished status and one of only two in Texas.
NAF Distinguished Academies demonstrate adherence to an educational design that prepares students for college, career and future successes. Research shows that students in NAF academies achieve better results than those in the same school district who are not in NAF academies. Distinguished academies often realize even greater student outcomes.
In order to receive NAF Distinguished status, the academy has to score in the highest percentile in the NAF rubric among all of the schools. The NAF board also interviews the administrators, teachers, and students and scores the school in various areas including graduation rate, academic success, and the number of students with paid internships with corporations and businesses.
The Academy of Hospitality and Tourism is led by Mary White, and has achieved NAF Distinguished status for three continuous years. The Academy of Engineering is led by Tracey Giardina and this is the first year that academy has achieved NAF Distinguished status.