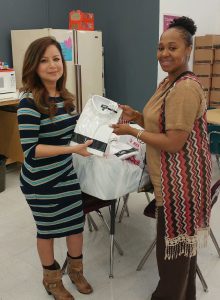 Students at Dallas ISD's John Leslie Patton Jr. Academic Center who cannot afford uniforms will benefit from a recent donation to the school.
In January, Soccorro Dinsmore, who owns several Levine's department stores, donated $600 worth of uniform shirts and pants. The gift was coordinated by the district's Volunteer and Partnership Services.
The Patton Academic Center serves 132 students who arrive as over-age and lacking in school credits in comparison to their grade-level peers. Through a high-quality, customized educational experience, students take accelerated courses to catch up and complete their diplomas.