The number of career certifications received by Dallas ISD students has increased by more than 3,500 percent since 2009–2010, and students like Damian, a senior at W.H. Adamson High School, are benefiting.
Damian is in Adamson High School's automotive technology program and plans to become a Porsche Master Technician. Thanks to the program that provides students with hands-on experience repairing and learning about cars, Damian has a big head start as he races toward his dream.
"This program has helped me in leaps and bounds," Damian said. "Every class teaches me something I didn't know and that I can use down the road."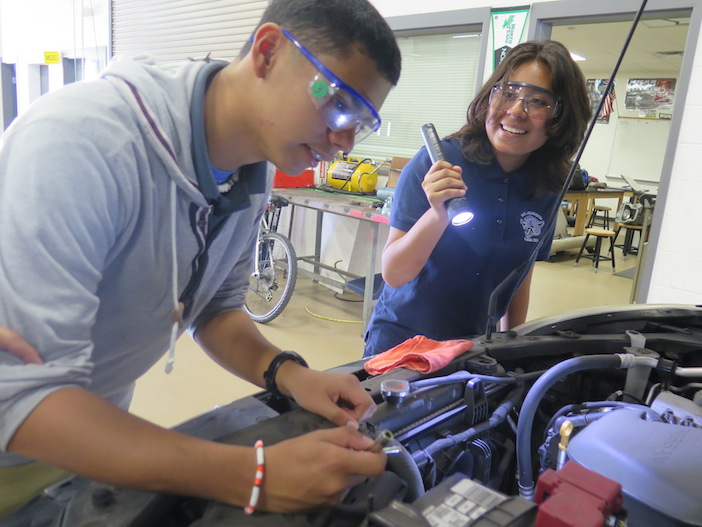 Adamson has partnered with Eastfield College to offer dual-credit automotive technology classes, meaning students get high school and college credit at the same time. Through the program, students will be able to get up to 18 college credit hours, an Occupational Safety and Health Administration (OSHA) student certificate, and Automotive Service Excellence (ASE) certification.
Ruben Delgado, who teaches the automotive technology course along with Timothy Martin, said the classes prepare students for success after high school.
"This program provides students with real world knowledge and experience that they can use in a future automotive career, or just to work on their own cars for fun," Delgado said.
Adamson's automotive classes are part of Dallas ISD's Career and Technical Education (CTE) program. From hospitality and tourism to manufacturing and floral design, Dallas ISD's CTE program has rapidly grown in recent years.
Much of the CTE program growth can be attributed to House Bill 5 that was passed by the Texas Legislature in 2013. HB 5 requires students to earn an endorsement while they are in high school. Most of the endorsement options are CTE related.
Between 2009–10 and 2015–16, the number of career certifications received by Dallas ISD students rose from 177 to 6,438. Below is a chart showing the growth in certificates received by students:
Dallas ISD CTE Director Richard Grimsley said the certificates and knowledge students get through the CTE program gives them a big leg up when looking for jobs after school.
"Our plan is to get our students college and career ready," Delgado said. "Whatever our students do after they graduate high school, we want them to have the brightest possible path forward."