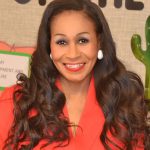 Each year, students who participate in the Academy of Hospitality and Tourism (AOHT) cluster at Justin F. Kimball High School are thrust in to real-world experiences. But it's not met without high expectations.
Pants must be neatly pressed and, once shirts have been ironed, it is only fitting for them to be worn tucked in.
Mary White, Kimball's career and technology chair, implores excellence among each of her students, and she believes it starts with their appearance. Her goal is to make sure each AOHT student gets scholarships at the end of the program.
White recently received her own nod of excellence at the National Academy Foundation's (NAF) Next Conference in Orlando. She was awarded the prestigious Janet Linton Award for her contributions to the foundation. Only three leaders are chosen annually for this award.
Known for her motto, "your zip code does not define you," which serves as a note of encouragement to students who often face severe adversities, White was excited to receive the recognition.
"I want to say a special thank you to [Dallas ISD], academy teammate, administrators, core teachers, my family and the outstanding AOHT scholars," White said.
White's hard work at Kimball included transforming an underperforming AOHT into a distinguished status academy for other districts to model after. This year, White helped lead a team to host educators from the Charlotte-Mecklenburg area in North Carolina for an AOHT site visit.
White has built a reputation for developing business partnerships by serving in leadership roles for programs such as: the Mayor's Intern Fellows Program, Big Brothers/Big Sisters, Industry Expo, 21st Century Girls Clinic and the Capital One internship program.
She is the first Dallas ISD recipient to receive this award.