Diego, a fourth-grader at Carr Elementary, likes playing video games and sports, hanging out with friends, and watching the Dallas Cowboys (Tony Romo is his favorite player).
In other words, Diego is similar to many ordinary fourth-grade boys across the city. However, Diego had to overcome extraordinary challenges after he was diagnosed with leukemia in 2014.
Diego's family volunteered to be bone marrow donors and his sister, Erika, was a 100-percent match. Diego had a bone marrow transplant and, by January 2015, was in remission. Diego has been medication free as of Feb. 1.
And while Diego is feeling better and back at school, he will inevitably hear from his older sister if he bugs her at home.
"She'll say, 'I saved your life,'" Diego said with a laugh. "She won't let me forget it."
Diego would go out of his way during his doctor visits to speak with other patients going through the same thing and let them know that everything would be okay.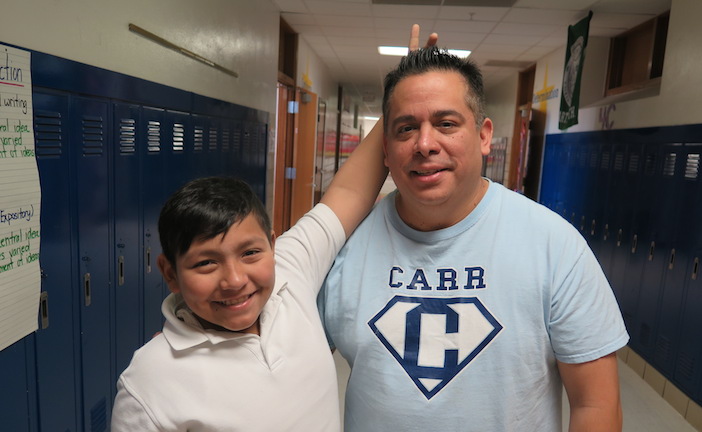 Inspired by what he has gone through, Diego's fellow classmates and teachers at Carr Elementary are in the middle of a campaign to raise money for the Leukemia and Lymphoma Society. The school is competing against four other schools—Arcadia Park, Gabe Allen, Martinez, and Lanier elementary schools—to see which school can raise the most money for the Leukemia and Lymphoma Society.
Ricky Puente, a counselor at Carr Elementary, said the competition is a friendly way to raise awareness on the fight against blood cancers and at the same time raise money for a worthwhile case.
"It's great to see our school come together and support one of our own," Puente said.
People can make a tax-free donation to the Leukemia and Lymphoma Society and support Carr Elementary in the competition by going here.