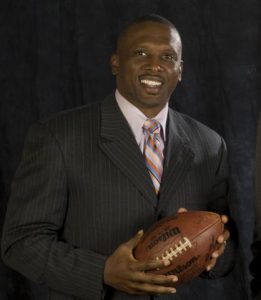 There's nothing quite like having one of your own in the limelight.
When retired NFL great Tim Brown is formally inducted into the Pro Football Hall of Fame this weekend, lots of local fans will share the pride of his accomplishment, not the least of them being Dallas ISD, which is where Brown got his start. Many in Dallas ISD praise Brown—an alum of Woodrow Wilson High School, graduate of Notre Dame University, Heisman Trophy winner, and NFL record-holder—as a hometown success story.
In an extensive Dallas Morning News profile, Brown, the first and only Dallas ISD grad to go into the hall of fame, admits that his team at Woodrow only won four games in his three years on varsity, which makes his career success even more impressive. Sharing his success with his hometown crowd, Brown said in the article that he will definitely be representing Dallas ISD when he receives his lifetime honor on Saturday.
His many records and athletic accomplishments over a 17-year career with the Los Angeles/Oakland Raiders are detailed on his page on the Pro Football Hall of Fame website. Away from the spotlight, the athlete turned philanthropist and author has continued his relationship with Dallas ISD, sponsoring an annual fundraising golf tournament for his alma mater, participating in the annual superintendent's scholarship fundraiser, and visiting schools to discuss the importance of academic achievement.
Chosen to grace the cover of the district's annual football program, which also includes a tribute spread devoted to his career, it's certain Brown will continue to inspire student athletes for decades to come.