Poetry and culture go hand in hand at Raul Quintanilla Middle School. Teachers Lisa Taylor and Candy Williams began the poetry and culture clubs as a way to connect with their students. The result was a resounding success, said Taylor. "My students are making better grades, participate more in class, have a broader perspective of the world, and have developed a good camaraderie between each other."
Taylor, Williams and Thomas Browne, all English/Language Arts teachers at Quintanilla, are the clubs' sponsors. A former arts critic and publicist, Taylor wanted to use her experience to help her students. In fact, all three teachers have an arts background. Williams is a singer and songwriter, and Browne is a spoken word artist and playwright. Their students are able to benefit from the academic and arts expertise their teachers bring to the table.
Even though they meet on different days, members of the two clubs often collaborate. For example, both frequent DaVerse Lounge, a spoken word venue for teens. The poets perform and the culture club members, whom Taylor describes as budding journalists, write about the experience.
Browne said the clubs give s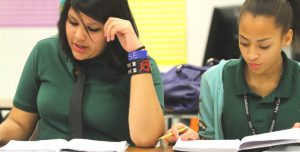 tudents options to express themselves in a positive way. Both clubs have been well received by students, and participation continues to increase. "I like expressing myself because it makes me feel free. I've struggled with reading in the past, and I think this will help me in the future," said Hector Mesta, a poetry club participant.
Thanks to a grant from the Junior League, the culture club members visit such venues as Dallas Children's Theater and the Latino Cultural Center. Taylor says she also posts projects on the Donors Choose website to raise funds to cover the cost of field experiences for both groups.
For more information about the Quintanilla poetry and culture clubs, contact Lisa Taylor at Dorotaylor@dallasisd.org.