Education works best when businesses, community members, and schools work together to support and enhance learning. Dallas ISD's partners represent all facets of the community, including individuals, agencies, businesses, civic groups, faith-based organizations, and higher education insti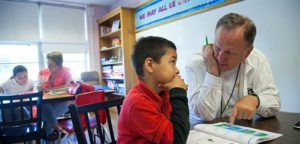 tutions. They all have in common a desire to contribute to classroom learning as volunteers or by donating funds or equipment.
Here are a few ways to make sure donations are received and documented in the correct manner so they can be quickly put to use to benefit schools and students.
1. Consider what resources you'd like to share. You have the option to:
2. Complete a Partnership Proposal or email information to partners@dallasisd.org.
Project proposals allow Dallas ISD to best match external resources with internal needs to achieve the greatest impact. The proposal should include a basic outline of the project, with goals, timeline, points of contact and outcomes.
3. Once potential donors submit the Partnership Proposal, a representative from Volunteer and Partnership Services will respond within five business days.
Volunteer and Partnership Services will coordinate with appropriate departments, ensure policy and legal requirements are followed, and establish implementation procedures before finalizing the Partnership Agreement.
Internally, the district will work directly with donors' intended recipients to:
1. Get the right approvals
2. Report the gift or donation.
Within five working days of receipt of the gift, the district will report the donation through an Acknowledgement of Donation Form which the recipient will complete.
3. Thank the donor or partner.
District recipients such as schools, groups or departments are asked to write a letter thanking the donor for their contribution to enhancing education in Dallas ISD. All schools and departments must record the donation in the online database at www.dallasisd.org/contributions.
Interested in volunteering or partnering with a school, department or the district as whole? Start by reviewing the information at https://www.dallasisd.org/volunteers. Direct questions to Partners@dallasisd.org, or volunteer@dallasisd.org, or 972-925-5440.