Community members both young and old, as well as families, will come together to celebrate literacy and African-American literature during the annual African-American Read-In, 11 a.m. to 1:30 p.m. Saturday, Feb. 21, 2015, at Cornerstone Baptist Church, 1819 Martin Luther King Jr. Blvd., Dallas, Texas 75215.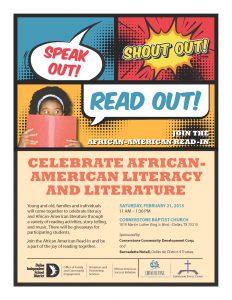 The read-in will feature a variety of reading activities, storytelling, food and music. There also will be giveaways for participating students.
Bernadette Nutall, Dallas ISD District 9 Trustee, and the Cornerstone Community Development Corp will sponsor the read-in. The event also supports the Dallas ISD African-American Success Initiative.