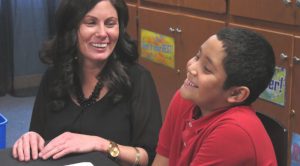 One's career path is rarely straight. People often find their calling through bypasses and detours. Five years ago, Delauren Kruzel wasn't counselor at Stephen C. Foster Elementary School, but she was in the business of guiding others' paths.
"I've always had a passion for working with children," said Kruzel whose previous work involved rehabilitating and preparing prison inmates to renter society. "Listening to their stories, I learned many of their hardships began when they were young children."
This realization led her to school counseling, a career path that would allow her to have optimum impact at the most impressionable time in a child's life "when they begin to develop their academic self-concept and their feelings of competence and confidence as learners," said Kruzel. "They are beginning to develop decision-making, communication and life skills and character values. This is when students develop and acquire attitudes toward school, themselves, peers, social groups and family."
At Foster Elementary, Kruzel helps families plan for students' academic futures, set goals and investigate career opportunities. She says she enjoys working alongside families to provide education and information on programs such as magnet schools and career pathways that could help propel students' goals into reality.
Kruzel said one focus of her counseling efforts is helping students develop effective social skills, like problem-solving, conflict resolution, coping strategies and peer relationships. She has also facilitated mental health and wellness and academic intervention training and staff development for Foster teachers and staff.
"It is my job to encourage and enhance each student's academic and personal growth," said Kruzel. "The school counseling profession has offered me the opportunity to have the most impact."