Is your school librarian doing amazing things to encourage literacy and a love of reading and learning through books, audio, digital and print resources?
D Magazine needs your help in naming the Dallas School Librarian of the Year.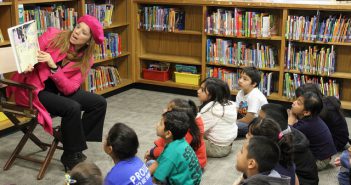 Do you know a librarian in Dallas Independent School District who:
Advocates for literacy by helping people learn to read and encouraging everyone to find a good book?
Increases access to digital and print information, as well as audio, because knowledge empowers?
Enhances the library experience through innovative projects, service and ideas?
Expands the role of the library in the community, whether community at large or school community?
If so:
Nominate the librarian who most embodies these qualities before Jan. 30 for Dallas Librarian of the Year.

Students may also nominate a librarian and state the reason for their nomination.
Nominations are open to any certified librarian working full-time or part-time within Dallas city limits or Dallas ISD. Librarians at public libraries and those employed by schools, hospitals, correctional facilities, museums, and research laboratories are eligible.
The Librarian of the Year will receive recognition in D Magazine's April issue and other prizes to be determined.
For additional information and details or to nominate someone, visit the website.