Students at Arcadia Park Elementary cheered, smiled and added excitement to a celebration of the Dallas Independent School District evening supper program held on Jan. 21 at their school.
See photos from the event here.
Joined by the Dallas Mavericks mascots, Mavs Man and Champ, as well as the basketball team's cheerleaders and a host of local dignitaries, the Arcadia Park drum line and student body helped announce the latest milestone for the program. This school year, students at 136 Dallas ISD campuses now have the opportunity to enjoy healthy, high-quality grab-and-go meals that ensure no student goes home hungry.
That is almost a 300 percent increase from the start of the program in February 2012, when nine schools participated.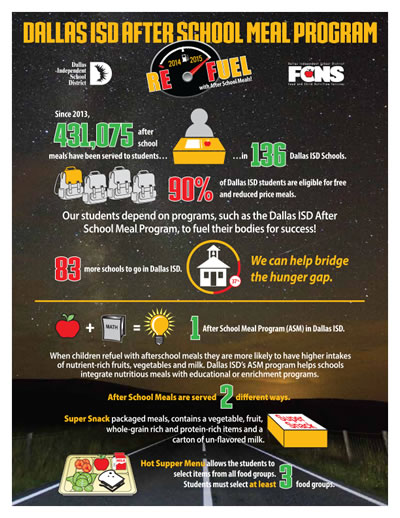 "Having these options along with a variety is important because we understand that every school has different needs and our goal is to help provide the resources needed to make sure no student goes home hungry," said Dora Rivas, executive director of Dallas ISD Food and Child Nutrition Services.
After-school meals are provided in two different ways at Dallas ISD.
The first option is the Super Snack, packaged meals that contain a vegetable, fruit, whole-grain rich and protein-rich items that students can easily grab and go while headed to their enrichment program. The second option is a hot supper that is consumed in the cafeteria and allows students to select items from a variety of food groups.
The program helps close the nutritional circle for many Dallas ISD students. Nearly 90 percent of Dallas ISD students qualify for free or reduced priced meals.
The expansion of the Super Snack effort program is supported by the Dallas Mavericks, whose logo adorns the packaging. In all, the district is working to expand the after-school meals program to 83 more schools.
In addition to food and fun, students at Arcadia Park enjoyed a visit from TomTom the Tomato Head, the Dallas ISD Food and Child Nutrition Services mascot, as well as coloring sheets.