Four-time World Champion and Track and Field Olympic Gold Medalist Natasha Hastings will host the Dallas Elite Youth Track and Field Clinic from 9 a.m. to noon, Saturday, Jan. 24 at Hillcrest High School located at 9924 Hillcrest Road.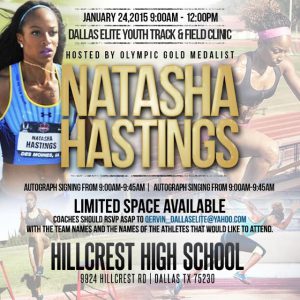 The event is free and open to students and athletes ages eight to 18. Those interested in participating must RSVP to qervin_dallaselite@yahoo.com.
Hastings made her first US Olympic appearance in 2008 where she took home gold as part of the 4×400 meter relay team before going on to take first in the 400 meters competition at the USA Indoor Track and Field Championships in 2011 and second in the same competition in 2012. Hastings will next compete Feb. 7 at the New Balance Indoor Grand Prix en route to her upcoming track and field campaigns in Beijing and Rio in 2016.