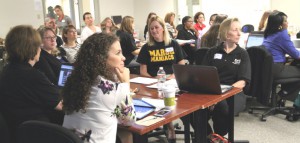 An update on the schools selected to implement personalized learning next school year is on the agenda for today's board briefing. Trustees are expected to hear the results of the six-month planning process that involved leadership teams of six current district campuses and two proposed new campuses that stepped up for consideration to implement the new model next school year.
Personalized learning is an instructional model that delivers a learning experience tailored to the individual student by giving him what he needs, when he needs it, in a manner that works best for that student.
Ashley Bryan, who is working with the schools to roll out the plan, discusses the criteria used to select the schools expected to implement the model next August.
Since last May, the eight teams in the first personalized learning cohort have brainstormed, made site visits to observe best-practice schools, and planned with parents and community members.
In December, the team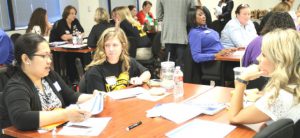 s submitted their action plans and five-year proposed budgets for review, and also gave a 20-minute pitch to a panel of district leaders and a representative of the Gates Foundation, the district's funding partner in the effort. The schools selected for 2015-2016 implementation are William Cabell Elementary, Dan D. Rogers Elementary, Thomas C. Marsh Preparatory Academy, and a proposed new high school team. The fifth school, Ignacio Zaragoza Elementary, was approved to pilot a small-scale proposal.
Features of the personalized learning model include:
information-rich learner profiles that clearly detail student's strengths, areas of growth, interests and aspirations;
customized personal learning paths that set specific, measurable goals for each learner and define a trajectory to realize those goals;
competency-based progression that allows students to move forward per mastery of standards or competencies;
flexible learning environments that allow student voice and choice in when, where, and how they learn;