More than 800 coats and warm items have been donated to Dallas students by the Give A Kid A Coat organization spurred by the opportunity to serve others during the holidays.
The coats and warm items will be distributed to homeless students in the Dallas Independent School District.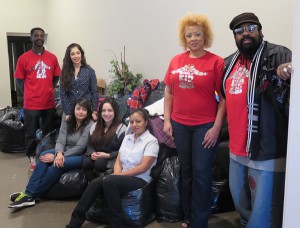 "I was driving by a Dallas school a couple years ago on a cold day and noticed a child on his way to school who was freezing," said Carla Harrell, owner of The Rhinestone Artist. "I decided to stop in at the school and ask the principal how many students need coats on cold winter days. I was surprised to hear that most of the students need them, so we started to get to work."
Harrell, owner of The Rhinestone Artist, enlisted the support of Sir Earl Toon, member of the legendary band Kool and the Gang and co-writer of hit songs Celebration and Ladies Night to help lead the charge. Sixty-six coats were collected the first year.
Since then, the group has worked with area Zumba® and Dance fitness studios in the DFW area to spread the word about the importance of coats for children during the winter. This year, 471 coats were collected and 399 other warm items, including jackets, sweaters and jackets.
"It is a wonderful feeling to be part of this effort," said Toon. "Every child needs a coat and the holiday season is a perfect time to give them one."
The coats and warm items were given to Dallas ISD's Homeless Education Program to be distributed prior to the Winter Break.
"What makes this special is that this group is not a major corporation, they're just regular people who saw a need and are trying to help our students," said Mark Pierce, Manager of the Homeless Education Program for Dallas ISD. "We need more people like them to help out where they can."
Currently, there are 1,500 students who have been enrolled as homeless by Dallas ISD.