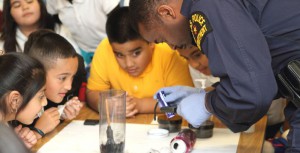 It's science fair season in Dallas ISD, and SMU Physics Professor Dr. David Dalley wishes more students would translate their curiosity about the world into science fair projects. President of the area's Regional Science Fair, Dalley thinks more kids would participate in science fair if adults simply encouraged students' natural curiosity.
"It's all about asking questions, but it has to be a question a student is interested in," Dalley said. "There are so many simple questions they can ask, like why is the sky blue, or how do birds know where to go when they migrate." Once students choose an idea, Dalley says creating the project is just a question of thinking it through.
"If students do a project about something that really interests them, they own it," he said. "They can relate to the science at a personal level. Students should investigate a question that they come up with, not one that they get from the Internet or one a teacher gives them." Once they're engaged, Dalley predicts students will find that science is interesting, and may grow to see it as an attractive career option. His own interest in science was sparked at age 15 by reading a biography on the life of Albert Einstein.
Fred Florence Middle School science teacher Shaunissy Brown says getting middle school students excited about science fair is challenging, what with their need to be cool and bow to peer pressure, but she doesn't give up. "I tell my students science is about choosing a problem and finding a solution." It can be as simple as asking how to prevent toothpaste from drying out so quickly, or emphasizing the connection of science to popular items like cell phones. Brown pulls out all the stops, inviting young science professionals into her classroom to share their career experiences, telling students that good grades in science attract scholarships, and that STEM careers can be lucrative.
Jared Tavares, who writes science curriculum and oversees and trains elementary science teachers for the district's STEM department, agrees with Dalley that half the battle is capitalizing on kids' natural curiosity. "Don't go to the internet and Google science experiments," he said. "It's better to focus on questions kids have about how and why things work. Stick with what they're interested in. Start with a hypothesis—an idea that can be tested by changing variables to measure the effect."
Students at many Dallas ISD schools are now putting the finishing touches on their science fair projects. Judges will rate projects at campuses in early January. Campus winners will be invited to display their projects at the division competition Jan. 17 at UT Southwestern. From there, winning projects will be on display at the district's STEM Day event, Jan. 31. The annual competition culminates with the best of the best going on to the Dallas Regional Engineering and Science Fair on Feb. 17.
Parents who want to stimulate their children's interest in STEM might consider these suggestions from the professionals interviewed for this story:
Take your child to events like the regional science fair or Moon Day at Frontiers of Flight Museum, and visit the Perot Museum where they can experience science in action.
Use the Internet as a teaching tool. When conversing about a science-related issue, if children show interest or get stumped, go to YouTube and look up the topic. There are numerous videos with answers to almost any question.
If your child's school sees science fair as an optional activity, Dalley says parents should let administrators know they support the academic rigor represented by participation in science fair.