Over the past several months, Dallas ISD has been asking parents and community members to weigh in on the types of schools they want to see created in the district through an online bilingual survey. Nearly 3,700 individuals voiced their opinions, which included parents of students both in and out of the district, parents of below school-aged children, and community members. The results show a large interest in expanding public school choice options.
"The survey results are convincing," said Mike Koprowski, Chief of Transformation and Innovation, who has been charged with expanding school choice. "There is clearly a demand for more public school choice options in Dallas ISD. We intend to work really hard to meet that demand so that more kids can attend a best-fit school."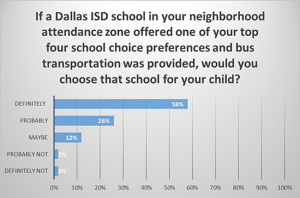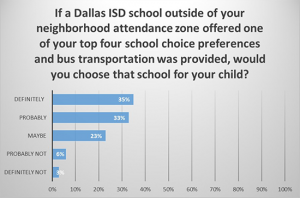 * Click the charts to enlarge.
Participants selected from almost 20 different school types that they would like to see launched in their communities. Choices included leadership academies, Montessori schools, dual language schools, Science Technology Engineering and Mathematics (STEM) schools, visual and performing arts schools, and others.
Despite differing demographics, results indicated a strong overall desire for more public school choice, with the top-ranked choices among all respondents being Advanced Placement (AP), Montessori, International Baccalaureate (IB), and Early College schools.
The survey, designed to seek input from all community members within the district's boundaries, is still open and can be accessed here.
Koprowski explained that district officials will utilize the findings to lay the groundwork for 35 new schools projected to launch within the next five years. The future schools will be similar to magnet schools, only without the academic admission requirements. To learn more, visit the Hub.