Editor's note: During the Thanksgiving holiday, The Hub will take a look back at some of the best and most popular stories from our first semester. This story was originally published on Oct. 3, 2014.
The ideas of brotherhood and leadership have been key in the development of the young men at Barack Obama Male Leadership Academy as evidenced by the character of the 12 young men who comprise the school's first senior class. Among them are scholars, athletes, engineers, journalists and world travelers.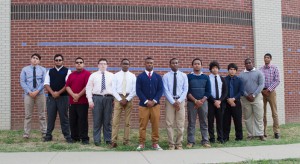 "This class is a melting pot of intelligence," said Cortney Cummings, Senior Class Sponsor and BOMLA Instructional Coach. "They honor themselves as a brotherhood, which is not something they take lightly. They are their own individuals, and yet, a group that follows the right path. Their choice to actually attend this campus, the sacrifice that came with that, and the fact that they have the ability to adapt to different situations, which has everything to do with being young men and the respect they have for themselves and each other."
Cummings explained the school's culture creates a way of developing the students' social and emotional skills and opening up those experiences through discussions, allowing them to feel safe to try, safe to speak.
When the Barack Obama Male Leadership Academy opened in August 2011, with an enrollment of 205 students, on the former B.F. Darrell Elementary School campus, the school's goal was "developing young men into impactful leaders for the world tomorrow through the development of their intellectual, moral, physical, social and emotional skills." according the school's website.
"We see ourselves as reimagining young men," said Principal Nakia Douglas in an address with Dr. Warren Farrell with the Commission for White House Council on Boys and Men. "We teach our young men there are always going to be two paths in life, a left and a right, and we ask them 'Are you going to be a leader or a follower?'"
"I wanted to change my life, become more mature and get ready for the real world," said Robert Moreland, who competes in football and track and field for his home school at Lincoln while balancing rigorous studies at BOMLA, came to the school because he wanted something new after finishing middle school at E.B. Comstock.
Like Moreland, another student, David Martinez, Jr., an aspiring gaming designer, wanted something better—to distance himself from a troubled past.
While Moreland and Martinez made their own decision to attend BOMLA, Mario Grimaldo's parents made the decision for him.
"For a 14-year-old boy coming to an all-boys school, it's something different," said Grimaldo. Many of the boys agreed, saying the absence of girls in their classes and at their school, was something to get used to but that it allowed them a clearer focus on their studies.
"Being a part of the first all-male public school is pressure, but our teachers believe in us, and even when we fail, they still believe," said Grimaldo. "We are a part of greatness, we are setting a standard, and that's important to me, to be here."
From attending the second presidential inauguration of their school's namesake, to their travels to Taiwan, France and Spain, participating in Robotics, and sports, these young men are personally invested in the legacy they hope to leave for future BOMLA graduates.
While Kendall Long hopes the foundation he created as the school's leading journalist will continue to grow, Mahteme Adamu whose goal is to invent technology that makes life easier for people in his home country of Ethiopia hopes to leave a legacy of a brighter future for his younger BOMLA brothers.
The graduates cite excellence, greatness, truth to self, perseverance and commitment to the pursuit of education as pieces of their legacy they hope to pass down to classes that will follow in their footsteps.
"This class sets the standard of excellence," said Cummings," (…) of redefining the stereotype that is associated with a lot of young men today. To allow the community to see that in us and give them hope, that our school system is still tried and true, that it still can produce scholars, particularly male scholars, and what that looks like as a future man that will be able to give back to their community, who will become fathers and husbands and live life in a way that honors leadership and brotherhood and being your brothers' keeper. They are setting the standard. Modeling the expectation."