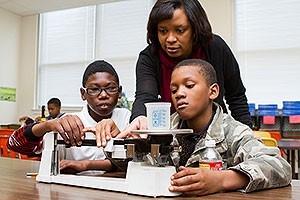 Editor's note: During the Thanksgiving holiday, The Hub will take a look back at some of the best and most popular stories from our first semester. This story was originally published on Aug. 22, 2014.
The Dallas Independent School District's rapid improvement in both academic and financial performance is nothing short of a miracle, according to an independent, education research firm.
ERG Analytics, a Houston-based company, annually ranks the 200 largest Texas ISDs on how well they educate students compared to the relative cost of providing that education, considering poverty and other factors. Based on 2013 data, Dallas ISD ranks 26th in ERG's education productivity index, nearly 50 percent greater than the 55th place ranking it earned in 2012.
The significant increases noted in ERG's analysis include both academic and financial performance measures.
The district jumped 47 places in ERG's academic performance index, to 69th in the state, thanks to increases in TAKS scores, four-year graduation rates and student performance on college admission tests. For example, Dallas ISD's 2013 graduation rate of 84.8 percent is tops among large Texas ISDs.
On ERG's financial performance index, Dallas ISD moved from 46th to 20th statewide based on how efficiently it spends money on instruction, leadership and student support and non-student support services. As an example, Dallas ISD is adding nearly 400 new teachers this year in an effort to maintain class sizes while achieving a record fund balance and earning high bond ratings for the second consecutive year.